We learned about Togo a few weeks ago and I've got another history lesson for you today, but it's not about an old chair—it's about a new one called the CP Lounge. Although this chair itself doesn't have a lot of history yet, its design brings with it the baggage of 50 years of modern design.
You might not even know the name Charles Pollock, but I guarantee that you've seen his work. He designed the famous Pollock Executive Chair in 1963 for Knoll, and working alongside George Nelson, he's been attributed to designing the 1958 Swag Leg Armchair for Herman Miller (although it's still often attributed to Nelson). Both of these designs remain in production today. But he didn't do a whole lot of designing after that, and, to quote the New York Times "many in the furniture industry assumed he was dead." But, Charles Pollock and his knack for modern design, is very much alive.
Jerry Helling, president of Bernhardt Design, also knew Mr. Pollock was alive somewhere and set out on a search to find him, and finally narrowed it down to a handful of Charles Pollocks until delivering a letter to the right person. I can't imagine how he must have felt being unsure of how Mr. Pollock would react and whether he'd be interested in talking about his career or designs… but he was more than friendly and the two hit it off right away. I spoke with Mr. Helling about this experience:
What was it about Charles Pollock's designs that made you want to approach him to do a collection with Bernhardt?
Jerry Helling: Although his original Sling chair from 1960 is a beautiful product, it has been marginalized to exist in the collector's world. However the Pollock Executive Chair had a major influence on the public for many years. Every time you watch a movie or television show from the 60s or 70s you see Pollock chairs everywhere. It was really cool that we moved into the late 60s this season on Mad Men, and that the Pollock chair could finally move into the offices. His chair was really the first piece of furniture that I actually "noticed" before I was part of this industry.
Did you have any concerns about working with a designer who hadn't debuted a new product in almost 50 years?
JH: My first goal was to meet him and I didn't know where it would go from there. It was fantastic that we got along so well and that he wanted to do something new. He is actually quite aware of what has been happening in design over the years. However, I don't think he has ever cared what other designers are doing and instead he does what he wants to do. This attitude is actually rather liberating in a way.
What was the process like to create something with a design icon?
JH: It was actually kind of funny because he was so surprised he didn't have to actually make anything himself. With all his products in the past, he had to make them and remake them by himself. He was quite amazed that we would bring in a chair and he would make corrections and then we would bring in another chair. This was his first product that was produced from his drawings rather than his handmade samples.
How long did the design process take and what were some of the highlights?
JH: The entire process from first meeting to launch took 16 months. One of the unique experiences in this project was working from a hospital room. He became quite ill during the development and we had to bring a prototype to his hospital room for a review session.
What about the CP Lounge collection most holds the Pollack signature?
JH: The continuous loop that trace the body of the chair. This time the line is done with a heavy cording rather than aluminum, but the unbroken line is the same.
What has the response to the CP Collection been like thus far?
JH: Successful beyond our expectations. We wanted the experience of working with one of the last living mid-century legends and we felt people would be interested in the outcome. However, it is a tribute to him that the product works and people want to own it even if they don't know the story behind its creation.
\\\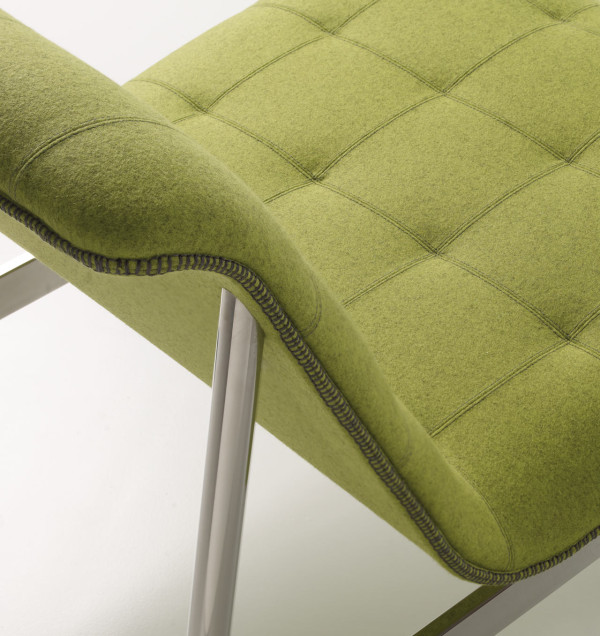 It's not every day that I get to actually interview a living legend from the mid-century modern era of design—who worked with Nelson, Charles Eames, Florence Knoll and Saarinen—so this was a special treat for me. Mr. Pollock, now in his 80s, was kind enough to answer some questions for me, and I was instantly appreciative of his candor and personality.
What about Bernhardt as a company made you want to work with them?
Charles Pollock: I didn't know that much about the company other than seeing all the ads in the magazines. I really liked Jerry and I always worked best with people, not companies. When Florence left Knoll I was finished with that company.
There are some exquisite details in the design of this chair, which is your favorite?
CP: The hand-stitched quilting with really small threads that are pulled in just enough to make it look soft and comfortable. It feels like quality. Like the inside of a Jaguar with the burl wood and leather.
What make a design timeless, or classic?
CP: It has to work. I always tell the kids at Pratt that design is a business and they have to make things that work. People have to decide if it is a classic but if it doesn't work it will never be a classic.
The CP chair collection design seems very reminiscent of the mid-century modern movement that you were a part of. Why do you feel that this particular time in design was so significant and why do you think the designs of that time are still so well-loved today?
CP: There were so many great designers back then working together. We were all working on new ideas and trying new ways to make things. The companies were small and there were people in charge who really cared about design and getting things perfect. Florence Knoll was a perfectionist. Now these big companies are guys in suits who don't care about the designer so much. The products were good because we made them over and over to learn how to make them because we didn't have computers. They were simple and that is what matters.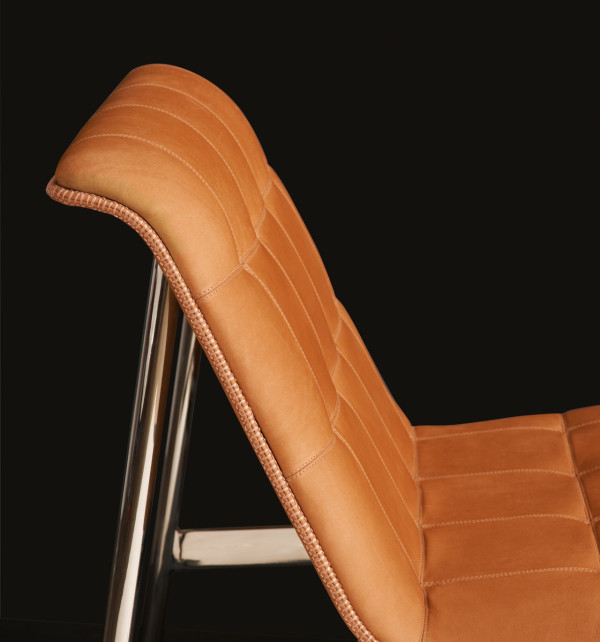 \\\
Watch more of the CP Lounge story here:
I love that everything about this chair is handmade—from the complex stitching to the upholstery. Helling explains that timeless design is a "product's ability to integrate with interior spaces and with other furniture as styles change. A basic simplicity and singularity of thought make this more likely to happen." Based on what we see with this lounge chair, we're pretty sure it already has a place in classic modern design history.