The late designer Hillman Curtis once said, "The goal of a designer is to listen, observe, understand, sympathize, empathize, synthesize, and glean insights that enable him or her to 'make the invisible visible.' By this standard, the Microsoft Xbox Inclusive Tech Lab has achieved notable success, designing a solution for a segment of the population too often ignored: the 30 million gamers with physical disabilities. The result of their studied efforts is the Xbox Adaptive Controller, the most inclusive gaming console controller ever designed.
The Xbox Adaptive Controller – XAC for short – is one part controller, another part peripherals hub. As its name implies, the XAC adapts according to the needs of its user, a lap-size rectangular angled slab offering giant and easily accessible buttons mapped for the A and B buttons. The more interesting and useful feature is hinted by the line of symbols embossed across the width of the controller  – 19 ports (each 3.5mm jacks) matching the entire range of control inputs of a standard Xbox One controller. Each port allows the gamers to add input devices according to their particular needs: a foot pedal, a quad stick, one-handed joystick, Ablenet switches, foot rudders, and grasp switches.
Three threaded inserts allow the XAC to be easily installed onto wheelchair mounts, a lap board, or desk, with rounded edges thoughtfully designed in consideration to reduce the impact if the controller is dropped onto a foot.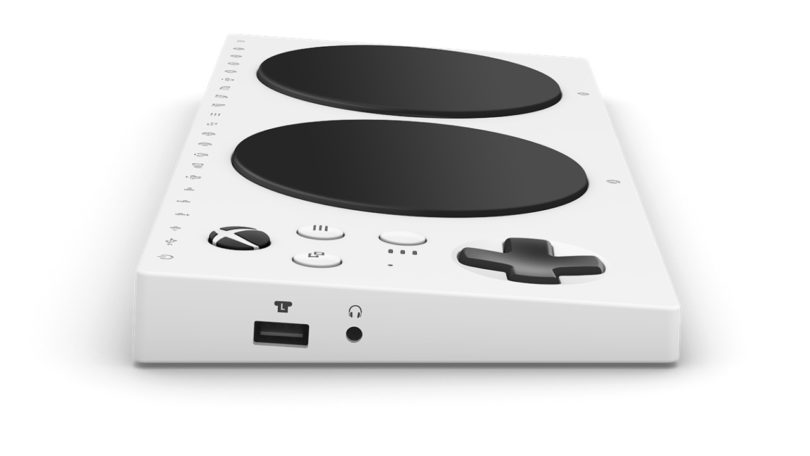 Recently the Microsoft Xbox Inclusive Tech Lab also previewed how the Xbox Adaptive Controller's packaging also represents efforts to make unpacking the controller easier, with the box itself an extension of the product experience. It's an elegant engineered solution designed to ease the hassle and stress of unboxing, and one with applicability across the entire spectrum of physical abilities.
"We spoke with gamers who have disabilities and tried to put ourselves in the position of the people who would unbox the product," said Mark Weiser, the Microsoft designer who created the packaging. "We wanted to make sure we saw it through the lens of someone who would potentially open this."
Microsoft's Xbox Adaptive Controller stands as an exemplary case of inclusive design engineered to accommodate a broad range of needs without "othering" its intended users – a controller so innovative its appeal could extend to all gamers. Look out for the controller to be available this September for $99.99.
For more about Microsoft's efforts about the Xbox Adaptive Controller, check out this Microsoft Story Labs post.