Dutch Artist Aldo Bakker's Slow Motion opened at the Carpenter's Workshop Gallery in New York last week featuring 10 never before exhibited works. The stars of the show were Bakker's chubby stools, notably Three Pair, Weight/Wait and 4PRTS, which were cast in stone, metal and Urushi.
The last materiality refers to a Japanese lacquer process that uses the sap of an urushi or lacquer tree found in Japan, China and Korea; this sap contains a resin that polymerizes and becomes plastic-like in air and moisture.
Gallery co-founder Loic Le Gaillard commented that Bakker's work was "powerful, elegant and filled with personality."
Because these objects have such distinct, beguiling shapes, you'll have to take multiple looks in order to grasp the form of each one.
Aldo Bakker eschewed formal training and chose to study the oeuvres of rather idiosyncratic personalities, such as composer Luigi Nono, painter Giorgio Morandi, writer J. M. Coetzee and architect Carlo Scapa. His work has since been commissioned by the likes of Georg Jensen and Swarovski and exhibited at the MoMA and Cooper Hewitt in New York, mudac in Lausanne, Centre Pompidou in Paris, Rijkmuseum in Amsterdam and the Victoria & Albert Museum in London.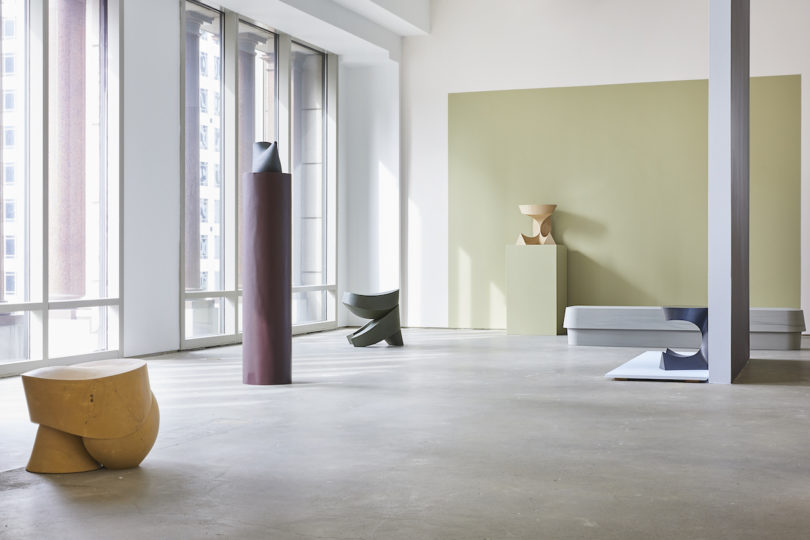 Photos courtesy of Carpenter's Workshop Gallery.