Your ocular relief: Olafur Eliasson's Ethereal Light Show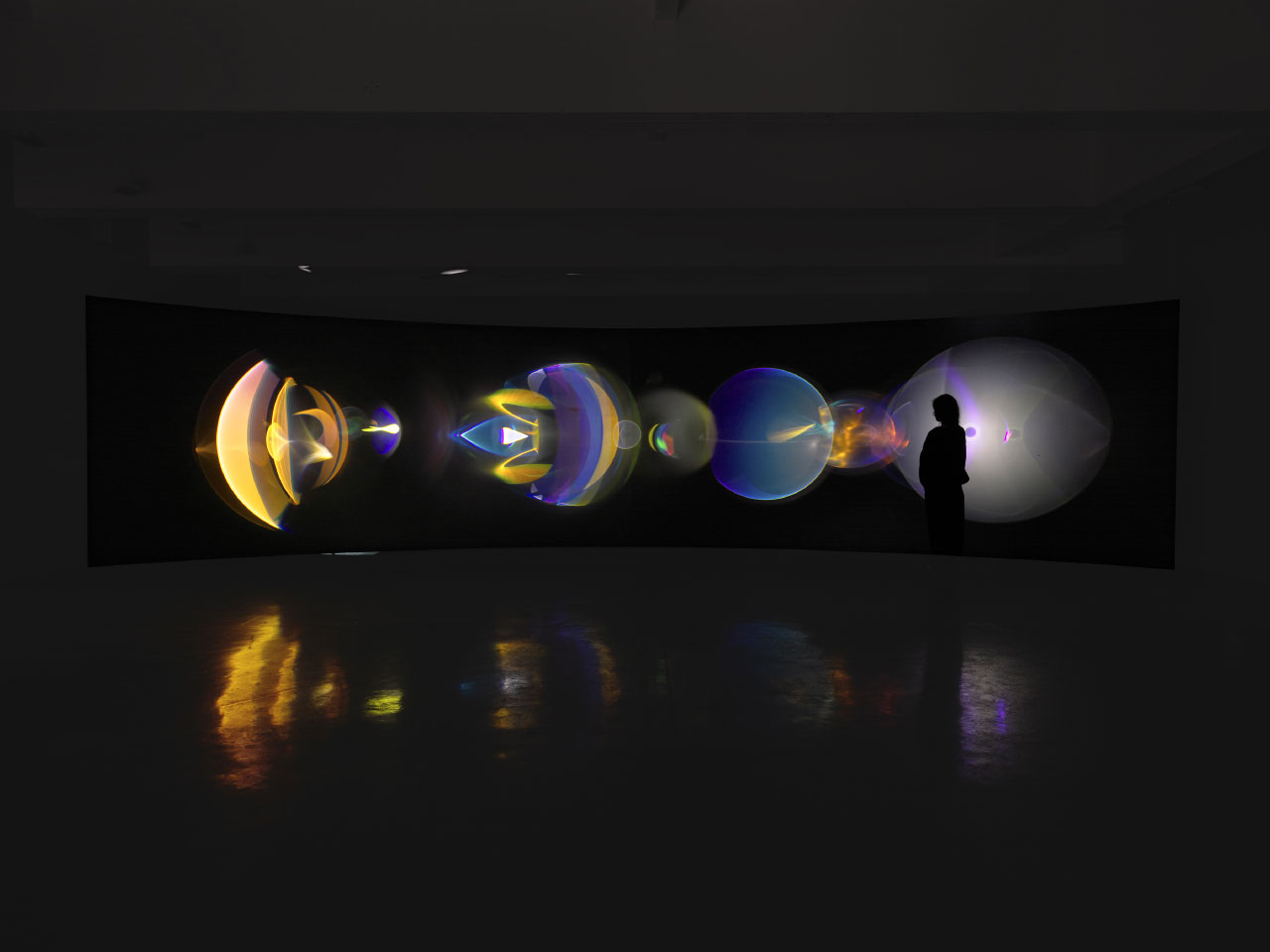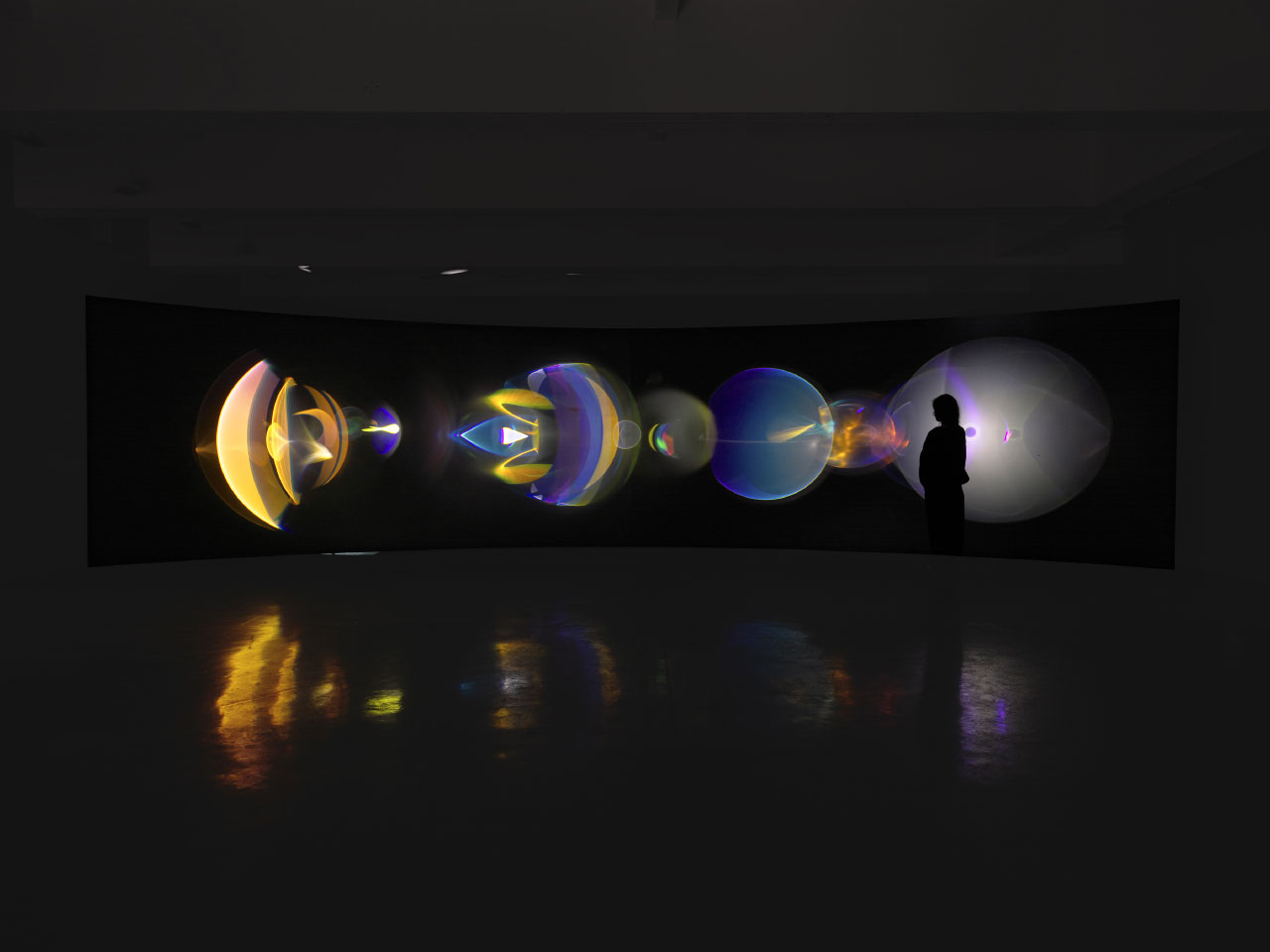 Your ocular relief: Olafur Eliasson's Ethereal Light Show
1/14 Photos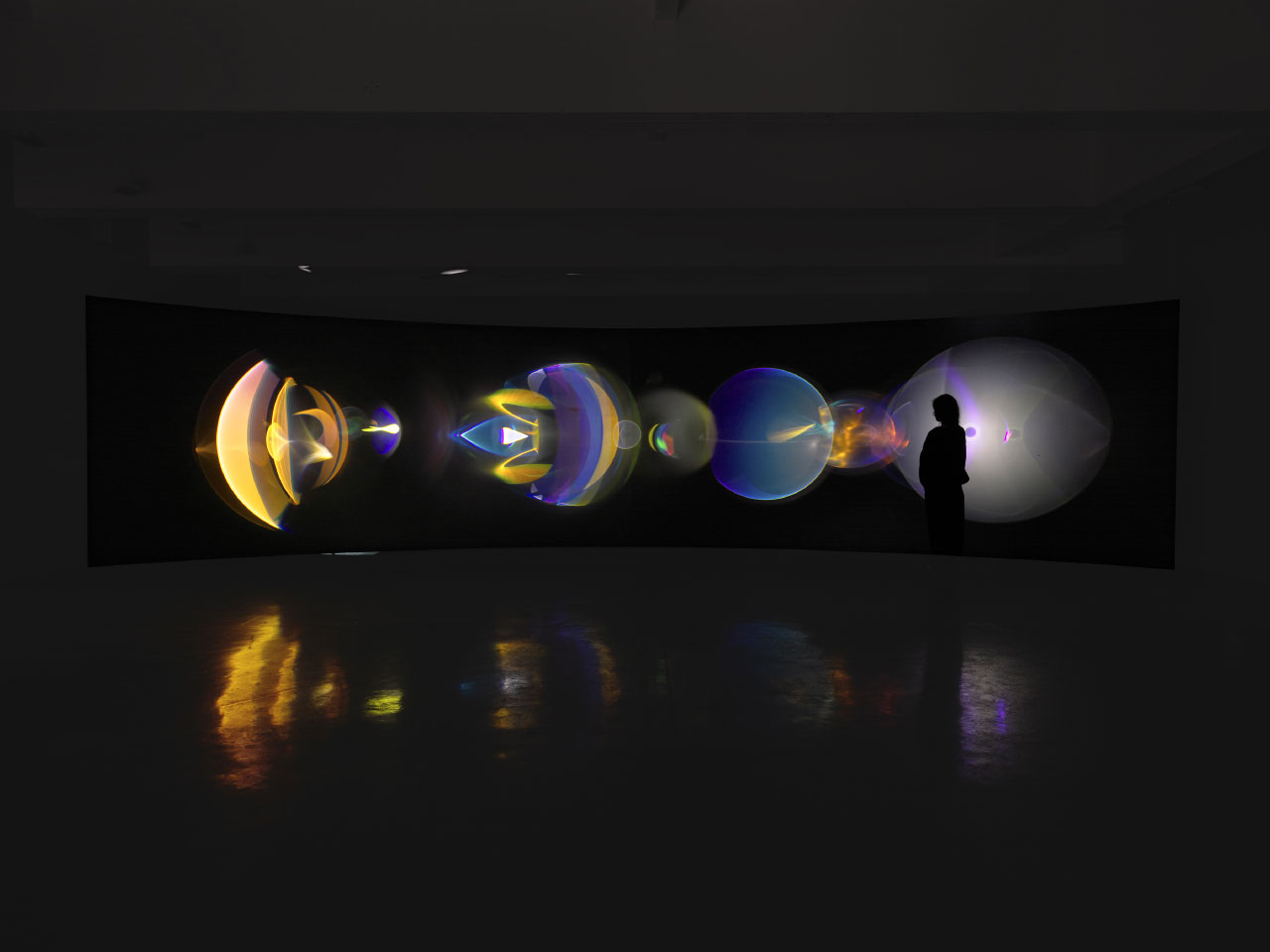 2/14 Photos
3/14 Photos
4/14 Photos
5/14 Photos
6/14 Photos
7/14 Photos
8/14 Photos
9/14 Photos
10/14 Photos
11/14 Photos
12/14 Photos
13/14 Photos
14/14 Photos
Danish-Icelandic artist Olafur Eliasson's newest exhibition at the Tanya Bonakdar Gallery is nothing short of jaw-dropping. A hypnotic play of colorful light that feels like peering into the cosmos, "Your ocular relief" rewards the most curious visitors with a behind-the-scenes peek at how the phenomena is created in real time.
The large curved screen of Your ocular relief 2021, greets visitors in a large dark room (we highly recommend letting your eyes adjust to avoid any potential collisions with other visitors who will likely be standing motionless in amazement). Unfolding in slow-motion on the screen is a never-ending display of otherworldly colors that morph into alien orbs, crescent shapes and flares that seem to fold into themselves like fractals of light. Those who approach the screen will find no evidence of pixels or any film technology.
The cosmic forms are created by a series of lenses, prisms and mirrors that literally split and twist the light from 5 powerful spotlights. The most adventurous viewers can peek behind the screen to find the complex boxes creating the phenomena – composed of rare lenses from Olafur's personal collection.
Watch the lights (and lenses) in motion in this incredible 3-minute video of the full exhibition produced by the gallery.
Upstairs, smaller (but no less wondrous) sculptures of light await. A favorite is Edgy but perfect kinship sphere – a highly complex orb of glass triangles that seems to project a different color of light on the gallery walls than the glass itself. Created with a combination of green-tinted glass and color-effect-filter glass (also known as dichroic glass), the high-tech material is capable of reflecting a single color of the light like a mirror, while allowing other colors of light to pass through the glass – thereby producing different colors on either side.
Large chromosphere assembly, is a circle of 12 solid glass spheres that are mirrored on the back. The small concave mirrors are magnified through the spheres while simultaneously reflecting the viewer up-side-down.  When viewed from the size, the colors disappear into full transparency.
Mirror my calmness Buddha in me, is a mirror-like wall sculpture that takes the form of overlapping ellipses, reminiscent of a camera lens flare when pointing at the sun. Created from flat pieces of silvered hand-blown glass, the imperfect warped surface feels somewhere between the surface of water and light itself.
Eliasson's work feels like the revolutionary and joyous results of a scientist pushing the latest material technologies with the goal of simply SEEING something that has never been witnessed before. His work is a gift to the senses and a must-visit during the exhibition's run. If you're in New York, reserve your time here. If you reside anywhere else, this online interactive experience shouldn't be missed.
What: Olafur Eliasson: Your Ocular Relief
Where: Tanya Bonakdar Gallery, 521 W 21st St, New York, NY (reserve your appointment on the website)
When: March 9 – April 24, 2021
Artwork and Installation photographs by Tom Powel, courtesy the artist and Tanya Bonakdar Gallery, New York/Los Angeles