It's important for designers to stay organized so they can spend less time searching, billing, looking for stuff, etc. and more time thinking, ideating, creating, etc. We asked our readers who work as designers to share some of their most useful tools, websites, and apps – the ones that keep them on track and on task. We chose the most popular answers to share with you because we agree that they're pretty essential (we use some of them, too!). Whether you're a designer, architect, artist, or in a totally different ball game, these must-have tools will help you TCB (take care of business). We also added a few of our personal faves, too.
1. Basecamp (Starts at $20/month with free iPhone app)
A large majority of designers seemed to give Basecamp some love. In fact, we use it, too – it keeps us organized and on-task for group projects and other client initiatives. Not only does it have a handy iPhone app, but you can create group to-do lists, send daily digest emails and create a comprehensive project calendar. Share documents, notes, and assign tasks all in one place. The biggest challenge? Getting your clients to use it!
We also like Freedcamp and Action Method.
2. Evernote (Free for computers, tablets, and phones)
Evernote is overwhelmingly popular with all walks of design life. It's like one giant bulletin board for all of your ideas where you can save links, images, text, audio, you name it. You can even share your ideas/projects with other people.
3. Post-it Brand Products (Prices vary – check your local office superstore)
There was an overwhelming majority who love to use good, old-fashioned Post-it Notes from 3M, and if you love those, we know you will love their new Post-it Big Pads (pictured above). So now there's no excuse not to think big with these large, but still totable pads from our beloved Post-it people. Capture your ideas or sketches on the fly and stick them to your computer screen, desk, or wall for reminders or inspiration. We'll be sharing more big ideas with you about these creative products soon so stay tuned!
4. Dropbox (Free)
I don't know about you, but we use Dropbox on a daily basis. You can share images, videos, and documents, of any size, with anyone, anywhere. No more sitting in front of the computer waiting for large files to send via email.
We also like SkyDrive and Google Drive.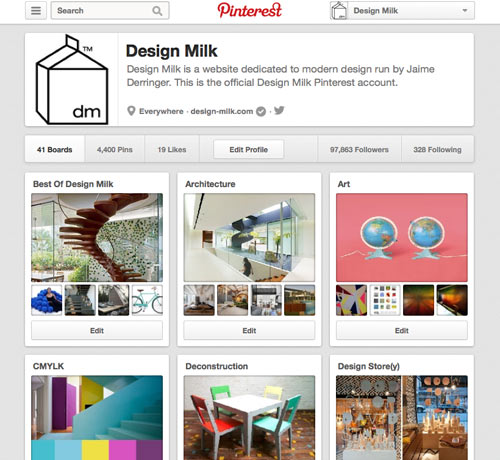 5. Pinterest (Free)
If you have a pulse, chances are you're heard of Pinterest. Most likely, you're on there daily pinning inspiration to your heart's content. The virtual clipboard site lets you collect loads of visual content and organize it into separate boards. Perfect for future house project ideas, DIYs, and design inspiration.
We also like Dropmark and Gimme Bar.
6. TeuxDeux ($2/month)
Manage your tasks and to-dos with the clean and simple TeuxDeux, which boasts a browser-based version and an iPhone app. The beauty, besides its minimal red and black design, is that they sync together. So, add to your list while you're on the go and see it later when you're back at home in front of the computer, or vice versa.
We also like Wunderlist, Things, and Any.DO.
7. Behance Action Method Books ($15/book)
For when you want to put your ideas and sketches to paper, there's the Action Book. Based on their Action Method, each notebook contains four zones per page for brainstorming, backburner ideas, sketching, and preparation.
We also like Moleskine.
8. Trello (Free)
Trello let's you look at entire projects at a glance by organizing them into boards. It's great when you're working on a team because you can see what's being worked on and by whom. Add checklists, due dates, and any attachment needed for a particular project. Also available as an app for the iPhone and Android.
9. Pancake App (Buy it for $49)
We have to talk about money… I mean, we have to paid, right? I hear time and time again about how much designers and freelancers hate to do it – invoicing, that is. Now there's a simple invoicing app that lets you manage your projects from the billing perspective. You pay one time for the app and you have it forever. Now go get paid!
We also like Freshbooks.
10. Toggl ($5/month)
Another thing that designers have mentioned that they struggle with and that's time management. Creatives tend to be free and when the creativity hits, you run with it, and often time gets away from you. Now you can track your time for the various jobs you might be working on.
We also like Yast and Klok (which we like because it connects with Basecamp)
What are your favorite tools, apps, and websites to stay organized? Tell us in the comments or join the conversation on Twitter #PostitBigPad or #createbig?
This post is a collaboration with Post-it® Big Pad, a new product that helps you think big, create big and share big. Learn more at www.post-it.com.