RPA's Treehouse sits on a steep ridge in Los Angeles' Nichols Canyon and is used as an office/studio and getaway, complete with a unique butterfly roofline.
The Tree Snake Houses were designed by Luís Rebelo de Andrade and Tiago Rebelo de Andrade in Portugal to resemble a snake sliding through the trees in a forest.
Snøhetta is responsible for the jaw-dropping Treehotel, located in a forest in Northern Sweden. Their latest elevated cabin is called The 7th Room and it's a two-bedroom space nestled amongst the trees. You'll do a double take when standing underneath it because they covered the bottom of the cabin with a black and white print of trees.
Nozomi Nakabayashi designed this Hut on Stilts high off the ground amongst the trees. The cozy space can be used as a sleeping getaway or a writer's office, safely away from all distractions you'd find on the ground.
The HemLoft is a private house within the trees in Whistler, Canada, that's located about a five minute walk from the closest road. The egg-shaped hideaway was built and completely self-funded by software developer Joel Allen.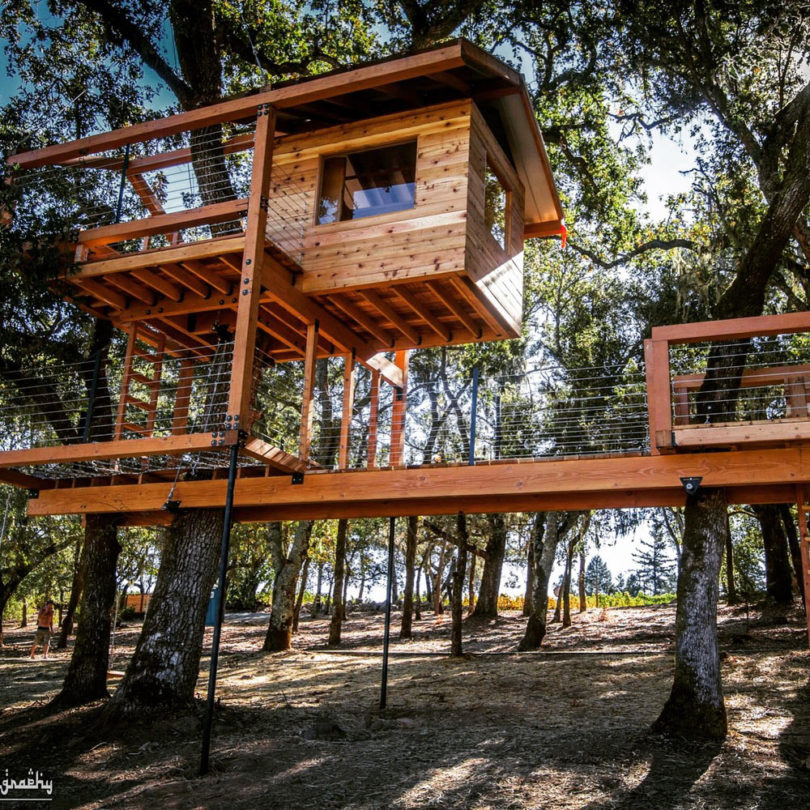 In Calistoga, California, O2 Treehouse designed this two-story treehouse for overnight guests and play. An upper level, which is an enclosed room, cantilevers out over a long catwalk and is accessed through a trap door.
Designer Takashi Kobayashi heads up a collective called Treehouse People and has built over 120 treehouses in Japan, including this one. The box-like structure features wavy planks of recycled wood as shingles on the exterior to achieve its unique look.
In a suburb of Cape Town, Malan Vorster Architecture Interior Design designed this unusual, cabin-like treehouse in a clearing amongst a bunch of trees. The layout resembles a pinwheel with a central square that has four circles just off of it.
Daniel Cabezas, Rosario Velasco, and Joan Sanz designed and built Villa Ardilla as an artist residence on a hillside in Granada, Spain. The tree-surrounded retreat also ditches typical wood as its main material and instead uses corrugated metal that's painted red and green.
Perched 11 meters off the ground, this treehouse by Andreas Wenning of German firm baumraum is a getaway for the owners whose main house is on the property. A small door in the roof of the garage is how to access the spiral staircase that leads to the treehouse above.