The Nu-Ovo, egg-shaped structure can be used for many purposes, but let's be honest, it screams outdoor nap, doesn't it? Paolo Maldotti designed it for Tisettanta and we love him for it.
From Usona Home, the Outdoor Daybed 09406 gives you a cozy spot to rest while partially covering you with its woven structure.
Like a nest, De Padova's Framura Nido, designed by Sezgin Aksu and Silvia Suardi, has woven straps around a tubular frame that hold soft cushions for you to lay on.
Surf is a curvy, sleek lounger designed by Karim Rashid for Vondom. The fluid shape resembles a soft wave crashing in the ocean with gentle curves to hug your body as you rest.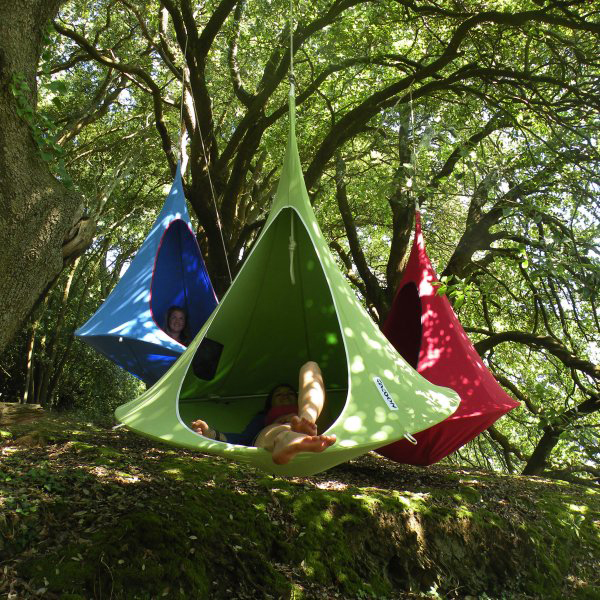 Cacoon, from hang-in-out, is an easy-to-hang, suspended tent-like structure that you can strap onto a tree in your yard or out in the wilderness. It's available in a one-person version and a two-person version, you know, depending on what kind of "rest" you're looking for.
If you're looking to leave your troubles behind, chances are you can relax on this wave of awesome. Hover above the ground on WAVE by Erik Nyberg, Gustav Ström, and Kris Van Puyvelde for Royal Botania.
The Puzzle set, from Ego Paris, is available with nine pieces or you can buy them individually. When fitted together, they form a large, stacked "puzzle" but when taken apart, you have some pretty sweet loungers to relax in.
Solpuri's Lagoon, designed by Klaus Nolting, is a stylish daybed you can really stretch out on, or lay on seductively (like the model), while protecting yourself from the direct sun.
BELANKA makes these suspended beds called Transamac that feature a unique swaying movement that gives you the feeling of weightlessness.
So, yes, this does resemble a colorful potato chip, and apparently it's meant to because it's dubbed "the potato chip chair", but the Shallow Swing is a relaxing, fabric-covered wooden frame that invites you to lay down and relax. Gisbert Baarmann is the genius behind this design.
Emanuele Magini designed Sosia, a convertible piece that goes from two arm chairs to a sofa to a cozy bed with a soft surround. Designed for Campeggi, Sosia is made of polyurethane foam and padding with a colorful Lycra cover.
Of course we can't talk about luxury outdoor lounging without revisiting the FAZ Daybed by Ramon Esteve for Vondom. It offers a sun protection shade and an outdoor sound system to up your relaxation game.
Want more relaxation? Check out 12 Seats for Maximum Relaxation.