Vertical gardens have become much more popular as it seems that horizontal space has been growing smaller and smaller. Living walls can exist both indoors and out making them a great yet unconventional design option for your walls. They not only bring a natural element to a space, but they can easily become works of art in their own right. Plus, they help purify the air we breathe, so it seems like a win-win, right? Take a look at ten walls that have been turned into live vertical gardens for everyone's viewing pleasure.
L'Oasis D'Aboukir is a project by Patrick Blanc in Paris, France where the side of a historic building becomes a mesmerizing vertical garden covered in 7,600 plants from 237 different species.
Located in Mexico City, Downtown Mexico is a boutique hotel designed by Cherem Serrano Arquitectos with an inner courtyard that features this massive living wall. The paisley-like feature brings a modern twist to one of the original walls.
J.M.Bonfils and Associates designed the mixed use East Village building in Beirut, Lebanon, to include a traditional Lebanese garden but in a modern way – vertical – which happens to be much more space efficient.
Designed by PAUL CREMOUX studio in Mexico City, Casa CorManca hides a series of layered outdoor spaces that all benefit from this gorgeous vertical garden. The wall features over 4,000 plants which help improve the air quality while increasing the humidity.
The Del Amo Fashion Center in Torrance, California, is home to this living wall by Habitat Horticulture. The greenery from the walls cascades down into the regular planters below which create spots for visitors to sit and relax while enjoying the green view.
Meristem Design were tasked with designing this vertical garden surrounding a round window in the Skanska offices. They incorporated a mix of tropical plants, approximately 35 plants per square meter, on the self-watering wall that's also outfitted with special daylight lighting to keep them growing strong.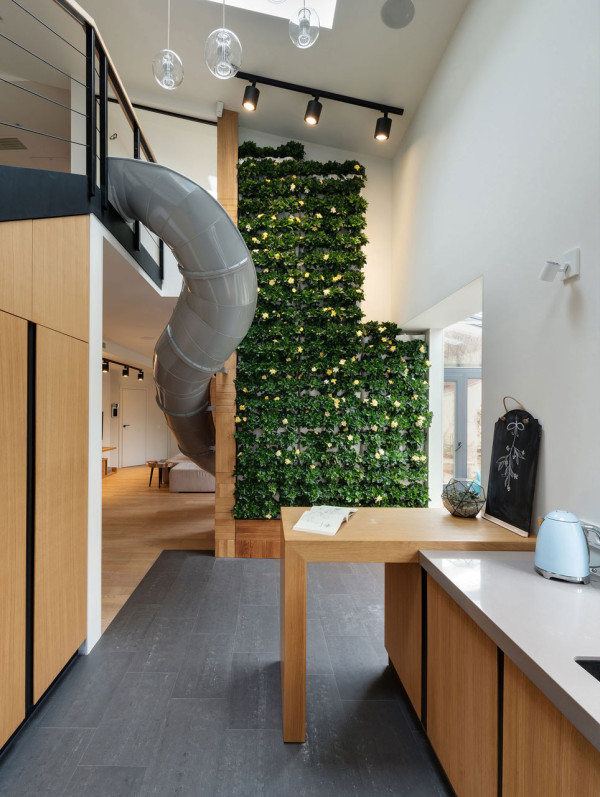 This Ukrainian apartment, designed by Ki Design Studio, not only has a slide to take you from the second floor to the main one, it has a double-height green wall that brings a punch of greenery to the modern space.
Paris's Musée du Quai Branly brings a lush green landscape to the middle of the busy city. Spanning over 800 square meters, the 15,000 plant-design was created by Patrick Blanc and it covers the entire facade minus the windows.
Adelaide Zoo Entrance Precinct was brought to life by Hassell in a part of the city of Adelaide that was once rundown. The new entrance entices visitors with a living wall full of rich native plants.
This multi-use building at the University of Ottawa was a join project between KWC Architects and Diamond Schmitt Architects. A six-story living wall, the tallest in North America, becomes an energy-efficient air purifier which led to the building receiving LEED Gold certification.