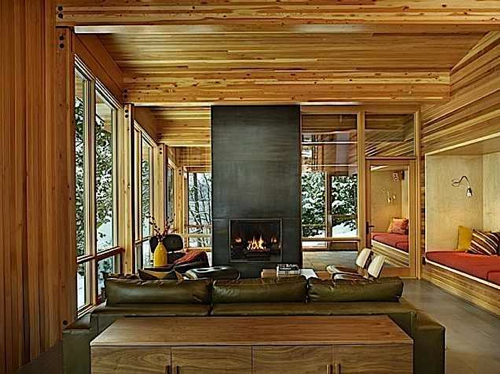 From slick black exteriors to crisp white interiors with pops of color, our roundups offer gorgeous, themed glimpses of design. This week, in honor of the big chill (though, full disclosure, I'm actually in Florida), we've rounded up a dozen fireplaces that really warm up the room.
Above: In what seems to be a modern rustic, wood-clad sunroom, Seattle-based firm DeForest Architects used a contrasting black finish on the floor-to-ceiling fireplace that stands smack in the middle of the space.
Swiss firm XTEN Architecture piles skinny slivers of charcoal-colored stone to create this boxy fireplace that echoes the view of the spectacular urban landscape in the distance.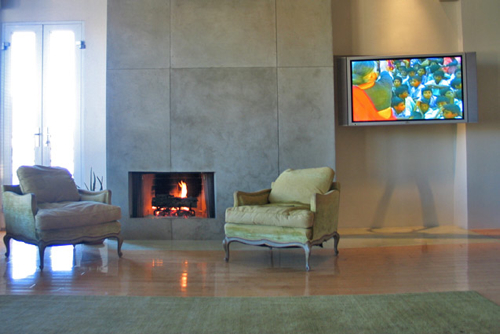 The homeowners of this contemporary living room opted to place the TV next to the cement-panel fireplace by New York City architect West Chin, rather than above it. Good move, though a slight bit quirky. Love the eclectic choice of pairing French style armchairs upholstered in celery green against the cool gray and clean lines.
White, white, and more white is pretty much always a win, especially when you add classic mid-century furniture like the Eames table and Breuer chairs. Photo by Simon Watson.
TIDY Arquitectos, based in Santiago, Chile created this black fireplace that is more artwork than afterthought. It's the sculptural centerpiece of the room, which opens onto an expansive patio.
Another work of ember art, the fireplace in this caramel-colored room by Boston-based interior designer Manuel de Santaren, is cubist meets Zen. Wonder if the top panels slide open for storage?
Who hasn't dreamt of what British shelter mag House to Home pictures here? Everything is of-the-moment, from the black walls, to freestanding tub, with candlelight and low-hanging chandelier. The steel surround of the fireplace echoes that of the television.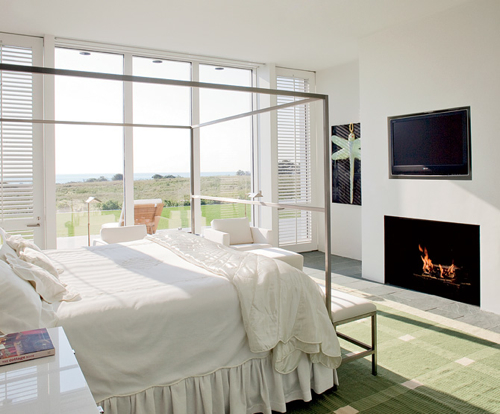 The work of Yale educated, Washington, D.C.-based architect Hugh Newell Jacobsen is always perfection. This bedroom, published in Architectural Digest, is no exception. The clean lines of teh bed, windows, fireplace, and television all work together, while bedding with a slight ruffle softens the tableau.
Definitely an original look, the bright yellow panel above the firebox, complete with oversize taxidermy head, is definitely the room's focal point. Published in Dwell.
Nobody does white with pops of color better than Swedish shelter magazine Sköna Hem. And, no Scandinavian interior would be complete without a homey fireplace, like this one.
The surfaces of Yarra House in Melbourne, Australia, designed by the architecture firms Leeton Pointonand Susi Leeton, flow smoothly, one to the next. While the furniture blends, the fireplace provides an accent.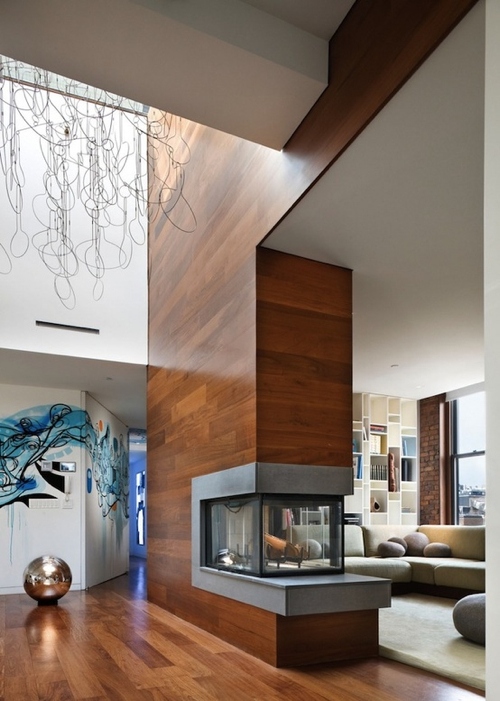 The fireplace in this 3,200 sq ft eco-friendly penthouse called "Blesso Loft," designed by New York City architect Joel Sanders effectively divides the entry from the living room.
Still chilly? Check out StyleCarrot for 31 Freestanding Fireplaces and 50 Rooms with Built-In Log Storage.