The mixed media approach to a traditional exterior, as in, stone + wood + brick, can be very builder hodgepodge. However, incorporating industrial elements into contemporary residential exteriors, as in wood + metal + cement, tend to work rather well. Today's architecture roundup features 12 homes with exterior metal cladding done right.
Above: PB Elemental Architecture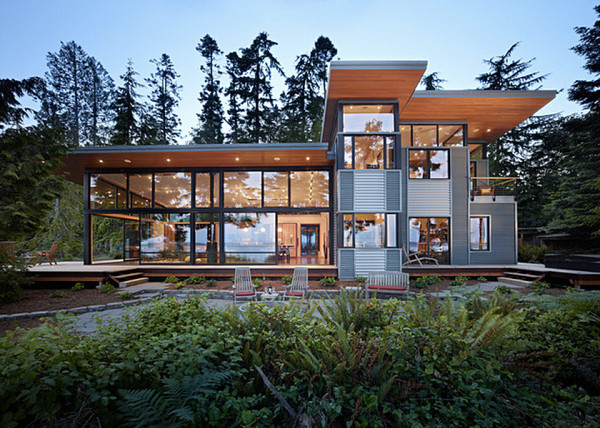 For this Port Ludlow home sited amidst tall trees, Seattle-based firm Finne Architects seems to have used two tones of metal cladding. The horizontal striations echo the underside of the wood-lined roof.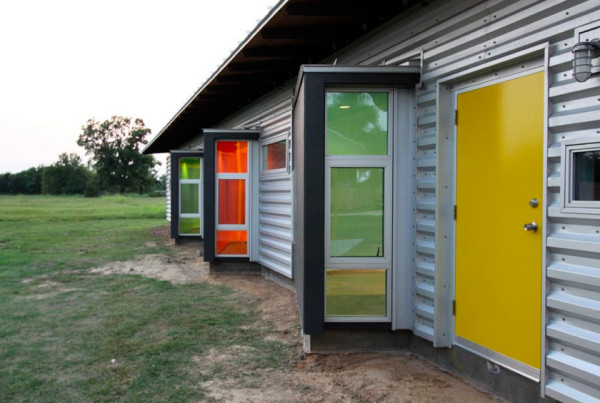 Houston-based firm M+A Architecture Studio uses bold colors and alternative materials in designing this affordable home for a young couple with three children. Located on family farmland, the metal siding echoes the vernacular architecture of farm buildings.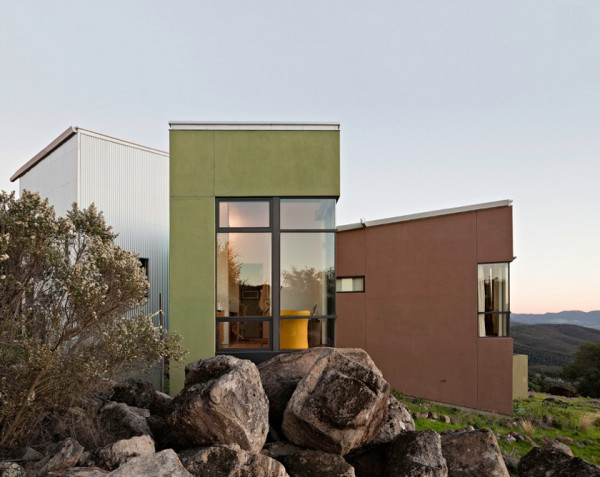 WA Design, an architecture firm based in Berkeley, California that designs many sustainable structures, is responsible for this industrial-style home in the Napa Valley. Corrugated metal, stucco, and Cor-Ten steel cover three distinct volumes.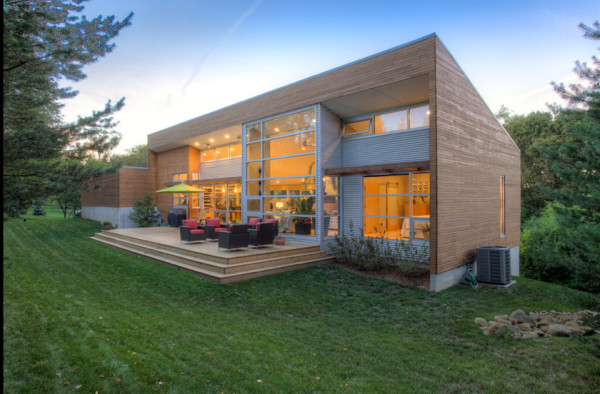 Taking advantage of a southern exposure, Genesis Architecture, located in Wisconsin, used large expanses of glass framed in metal, on the rear façade of this Milwaukee home, though parts are set back for shade. Much of the structure is sheathed in horizontal wood slats, though portions are punctuated with horizontally ribbed metal siding.
Architecture and interior design studio Knowles PS, based on Mercer Island outside Seattle, incorporated a number of industrial elements on this Port Orchard, Washington home. In addition to corrugated metal siding, which in this case runs vertically, in contrast to the horizontal wood slats, there's unfinished wooden beams, painted metal posts, and factory-style porch lights.
This house, built on a hillside, was designed by Melbourne, Australia-based Samara Greenwood Architecture. Corrugated metal panels are inset between skinny strips of wood with an orange-tinge. Rectangular windows with horizontal orientations provide contrast, echoing the long, seemingly narrow structure.
Another Seattle-based firm, Adams Mohler Ghillino Architects mixes corrugated metal siding with stacks of rectangular concrete, and a dose of wood for the garage doors and windows. The home overlooks Lake Washington and has views of the Cascade Mountains.
Homecraft Design & Build, a firm that works in British Columbia, Canada, designed this painting studio. The wooded, rural setting provides plenty of natural light, taken advantage of by the corner arrangement of a trio of stacked windows. Corrugated metal siding, also placed horizontally, provide texture and a shed-like appearance.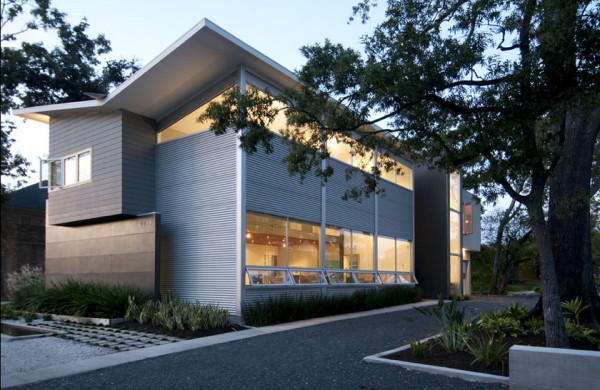 Houston-based Intexure Architects designed this home, in which the clients also work. The exterior features a lot of metal and all gray tones. Protruding volumes on the side, seen on the left, keep this structure from being a simple contemporary box.
Architect Kimberly Peck, who works out of New York City, designed this simple black structure in the Catskills using materials that are both economical and environmentally conscious. The front façade is clad completely in corrugated metal. The structure is topped with a barn-style, metal, standing seam roof. Interestingly, the door is a traditional paneled specimen, painted black.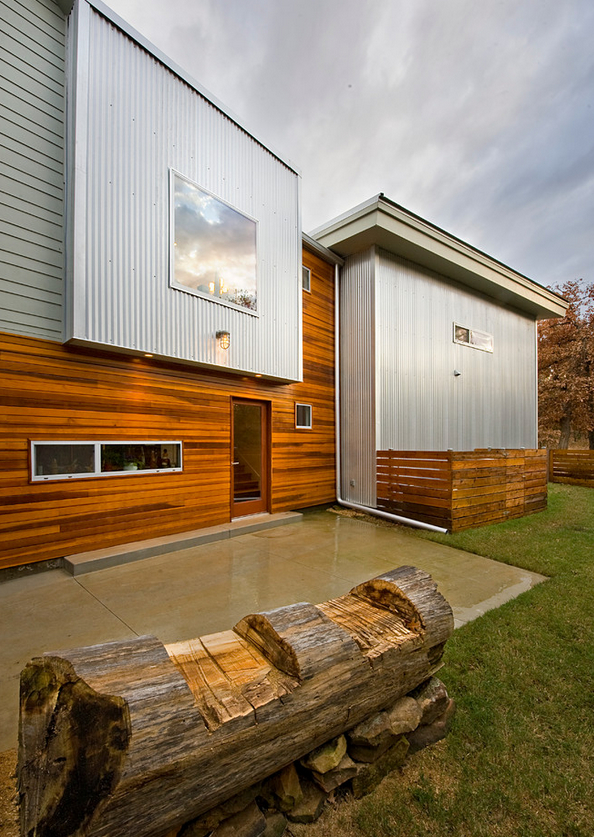 Tulsa, Oklahoma-based design build firm CR Forma uses recycled and natural materials in their sustainable dwellings, like this lake house in the northeastern part of the state. Stained redwood 1X4s and corrugated metal, along with gray wood slats, are used on the exteriors.
For more, check out 24 Modern Homes with Exterior Metal Cladding on StyleCarrot.