While by now most design conscious types are well-versed in the practice of hanging art on the walls, many don't rush into scattering sculptures around the house. However, three-dimensional pieces are essential for a rich, multi-layered look. And, of course, large ones can make quite the statement. These dozen rooms incorporate well-placed pieces that add to the decor in a variety of ways, from infusing the room with whimsy, to providing rich contrast in materials.
Above: Home designed by Seattle-based McClellan Architects.
This is a major piece, and almost like having a Cirque du Soleil performer right in the living room. The matte silver finish is perfect against the variegated grays of the fireplace in this city space by Cloadagh Design.
The tall wooden sculpture in this eclectic New York City living room in United Nations Plaza, decorated by David Scott, works well with the mix of furnishings and abstract paintings.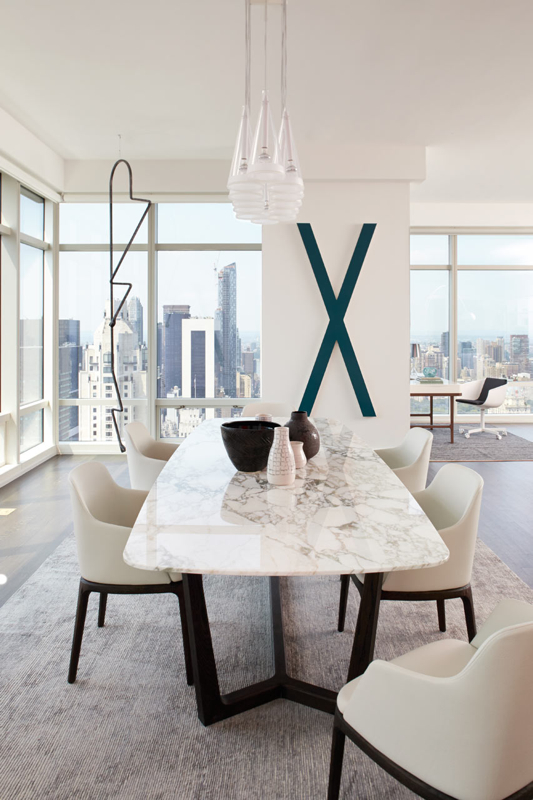 With gorgeous city views through the panoramic floor-to-ceiling windows of this apartment designed by Tara Benet, not much adornment is needed. The graphic X and more delicate but just as large wire piece by Valentin Carron make strong graphic statements that complement rather than detract in this dining room.
In this Barcelona apartment designed by Mary Lantero, a naturalistic hunk atop a wooden block adds an earthy touch to this modern, pattern-filled bedroom with color-blocked bed.
An distorted figure stands tall on a game table in a Barcelona living room which expertly blends contemporary and antique furniture and artwork.
Architect Stanley Saitowitz turned this originally Edwardian home in the Cow Hollow neighborhood of San Francisco, into a contemporary masterpiece, complete with larger-than-life sculpture in the foyer.
This solemn head is a fitting addition to an almost monastic, minimalist walk-in closet, which looks to open to the outdoors.
Selldorf Architects merged two apartments on New York's Upper East Side with this pair of black staircases. The pair of urn-like sculptures echo its duality, as do the sets of chairs, lamps, and wall of bookshelves.
In another, close-up, glimpse of the eclectic Manhattan apartment we saw above, two tabletop sculptures are revealed: a geometric wire sculpture in the background and an interesting twisty knot in the foreground.
Oversize earthy pieces—an "O" in the background and tree trunk with legs in the foreground—adds texture to this space by Elizabeth Martin for the Elle Decor Modern Life Concept House. Martin succeeded in finding the "feminine" and "fluid" form she said she wanted to include.
Photo by David Prince
A living room with chalky whites, greige, and charcoal that is beautifully styled with a contemporary glass cocktail table, an array of art, and a Noguchi-like earthy brown sculpture.
For more rooms showcasing sculpture, check out 45 Rooms With Sculptures on StyleCarrot.