It's summertime which equals outdoor family fun – laying by the pool or just on your back deck, having a BBQ, or just soaking up some summer rays. One thing's clear though, while it's all about the sunshine there can come a point where you need a little relief from the heat and there's no better place than to be underneath an umbrella. With umbrellas like these, there are plenty of ways to enjoy some vitamin D without getting burned.
Above: Let a little sun shine through this leafy, lace-like parasol, designed by Chris Kabel for Droog, making you feel like you're sitting under a tree. It even has a golden bird perched on top. Photo by Stefanie Grätz. (US peeps – get it at GNR8)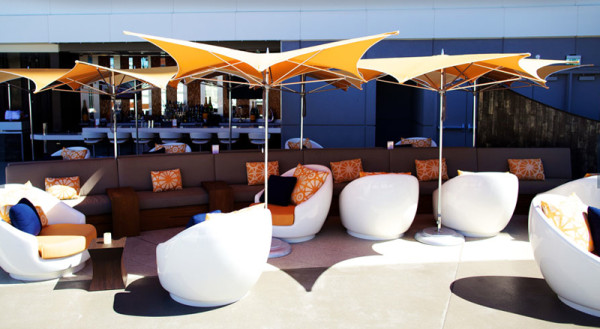 Leaving behind the typical rounded top umbrella, the Manta, by Tuuci, was inspired by the graceful moves of a manta ray in the ocean. The elegant lines help to avoid obstructing your view while you're sitting underneath it.
Our love of Marimekko and their menagerie of colorful fabrics and patterns is well documented and luckily they've carried the awesome to the outdoors with their Appelsiini umbrellas for Crate & Barrel. Available in Caliente or Green.
The Ensombra sunshade, by Odosdesign for Gandia Blasco, is made up of long segments that are connected on a central axis that fan out to create a modern shade.
Your basic umbrella, by Parasol, updated with thick stripes of black and white creating an eye catching pattern. It also comes in a host of other colors.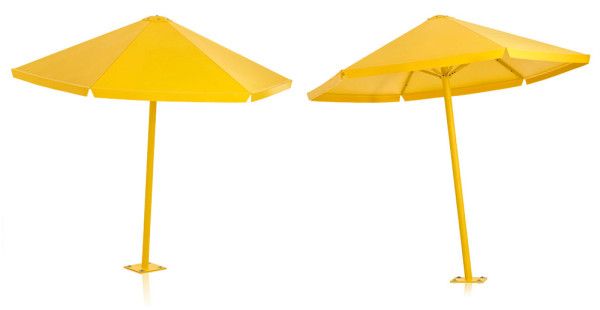 The Four Season / Public sunshade, designed by Thomas Bernstrand for Swedish company Nola, is durable enough to work year round to protect you from the hot summer sun or the torrential downpours of fall. The clean lines and punchy yellow color are bound to make you happy.
We featured the sculptural Stingray several years ago and its design is definitely unforgettable. Designed by Tuuci, the Stingray's elongated design helps provide an impressive area of shade.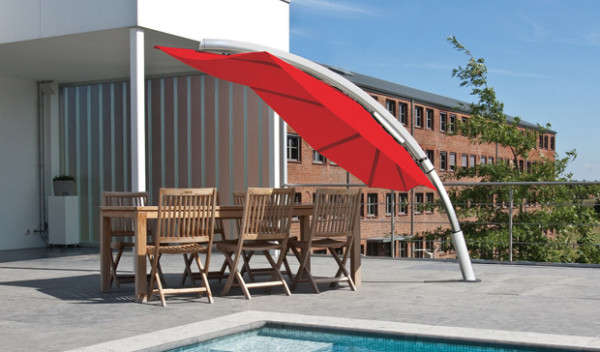 From Umbrosa Collection comes the Rimbou Icarus Shade Leaf. Just as you would imagine, this umbrella's tropical leaf-shaped design is large enough to cover a small table or seating area while stepping away from a traditional shape.
Simple and clean, the silver Parasol from Dedon offers a minimalist, yet stylish take on your basic umbrella.
I'm sure you know Fatboy and their incredibly comfortable bean bag chairs and adorable dog beds. Did you know they also make a massive sunshade featuring the ever popular Unikko flower fabric from Marimekko? Yep, The Flowerpowersol will bring a bit of color and iconic floral to any backyard. It also comes in a black version.
The Nenúfar parasol from Samoa Design mimics the shape of a water lily leaf. It comes in bright colors and the design tilts so you can angle the shade however you like for the most protection.
Steering clear of the traditional center pole, the Shady X Centric umbrella from Royal Botania hangs from a cantilevered arm. The oversized umbrella can rotate 360º around the base to provide ample coverage wherever it's needed. It even has a removable LED light fixture for a bit of light when the sun starts going down.