The Sycamore House is a project from Aaron Neubert Architects that restores a 1950's post & beam house in Los Angeles while also incorporating a 1,500-square-foot addition. Careful attention was paid to the design of the new addition as the lot's peninsular shape and sloping terrain played a huge factor into how it could be laid out. Sycamore trees on the property meant a lot to the homeowner so keeping them around was mandatory, making things difficult as one was planted in the primary location for the addition.
The addition was positioned perpendicularly between the exiting residence and the street setback. The interior living spaces are still kept relatively private, while the home opens up towards the hillside view.
They used multiple cantilevers within the addition that extend out over the hillside giving them the square footage they desired.
One of the beloved sycamore trees is actually incorporated into the house, piercing through the kitchen, family room, master suite, and the roof deck.
Helping blend the old with the new, the existing wood beams and the new steel structure are all painted red and all of the fixed windows are black.
Completely in love with the jagged black and white lines that start in the kitchen and move through the living room.
The large windows help bring the outdoors in and make you feel like you're perched within the trees.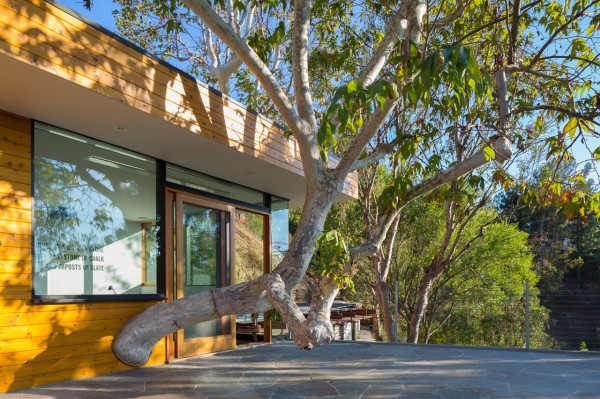 Photos by Brian Thomas Jones.