When it comes to fashion, Design Milk looks for products that combine high tech sensibilities with a modern aesthetic. This round-up encompasses the most cutting edge style-related items of the year, including watches made from paper and wood, a pair of shoes not quite made for walking, and of course, laptop accessories. If you've got it, flaunt it, we say.
WeWood Wood Watches
These natural wood timepieces are not just sustainable, they're celebrity magnets. Rhianna, Ke$ha, and APL of the Black Eyed Peas all own one.
Must-Have Laptop Accessories
Ditch the chunky (and oh-so ugly) laptop cases of yesteryear for sleek new designs constructed of felt or neoprene, or even one lined with fur.
Deconstructed Barbie Jewelry by Margaux Lange
Decapitated and dismembered Barbies have never looked so good. Margaux Lange has a knack for re-assembling the plastic body parts into distinctly original and somewhat creepy jewelry.
Ostrich Nap Pillow
Kawamura-Ganjavian has created a padded hood that's essentially a hibernation cave for your head. We dare you to don one at the office and take a quick snooze.
LEG-GO Stilettos
Parents with school-aged kids and shoe lovers alike will appreciate Finn Stone's limited edition, colorful works of art.
Moleskine's 2011 Collection
Everyone's favorite notebook brand has branched out. Organized into three categories—reading, writing, and traveling—this year's crop of new products, from glasses to book lights to backpacks, are as well-designed and practical as you'd expect.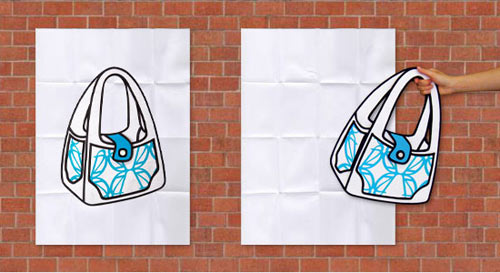 Jumpfrompaper Bags
Up-and-coming Taiwanese designers Chay Su and Rika Lin certainly have a bag full of tricks, literally. These may look like posters, but they're actually three-dimensional, fully-functioning bags.
Ze o Ze Shoes by Daniela Bekerman
The name means "This or This" in Hebrew, but really all you need to know is that this is a modular shoe. The heels can be swapped out so you can go from a flat to a spike in a jiff.
Post-It Note Watch
Sticky notes in watch silhouettes means you can wear your message without sullying your skin. Genius!

Moon Life DIY Shoes by United Nude
Invited to create futuristic but humane concepts for the lunar environment, United Nude came up with these DIY heels, which bring strappy sandals to a whole new level.