My laptop weighs about 20 pounds. OK, I'm exaggerating, but at about 3 years old, it's already completely outdated, clunky and ready for retirement. Laptops are getting smaller and lighter – something I remember wishing for when I used to travel for work quite a bit. I'd love to get my hands on a new, ultra-fast lightweight laptop. I mean, don't get me wrong, I love my tablet for watching movies and playing games, but I need something more robust to get my work done when I'm on the go (or on the couch!).
To complement the new breed of laptops, a slew of new must-have accessories has arisen. Gone are the giant briefcase-like chunky laptop bags that look like, well, laptop bags. In their place are stylish and slim laptop sleeves and bags — the perfect complementary gift this year for a workaholic, frequent traveler, or student.
The Corvus 14-15″ Laptop Backpack by Caselogic is a slim backpack that's still large enough to house your laptop, accessories, phone, keys AND a book, e-reader or tablet. The perfect carry-on.
Keep reading for more ideas…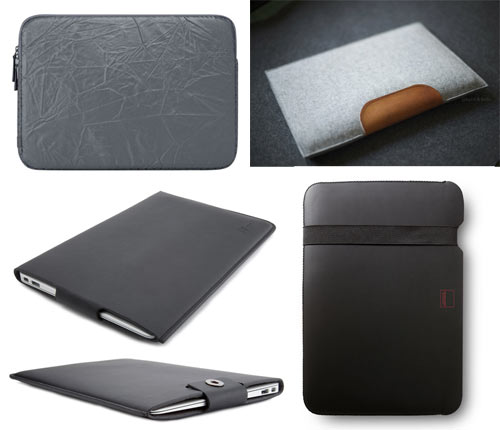 From fur-lined nylon to ultra-skinny, here are some top protective sleeve picks so that you can stick your laptop in your suitcase, briefcase or backpack with no worries. From top left, clockwise: 15″ Alloy Sleeve by Incase, 13″ Grey Wool Felt Sleeve by Byrd & Belle, The Skinny Sleeve from Acme Made, TrimSleeve by Speck.
How cute is this 11″ Envelope Sleeve
by Grantwood Technology that looks like an inter-office memo?
I love how this Cargo Laptop Sleeve by BUILT NY has tiny compartments on the outside for your components and extras.
Ladies, there's no reason to schlep both a laptop bag and a purse anymore – check out this Pavonis- 14-15″ Female Business Bag by Caselogic.
And beyond cases, you'll want to pick up a few accessories to use with your laptop, such as headphones, wireless speakers or a portable hard drive… here are a few of our favorite add-ons to stuff inside your new bag next to your laptop.
From top left, clockwise: Wooden headphones by Thinksound, Jambox wireless Bluetooth speaker by Jawbone, Tracks headphones by AIAIAI, Plattan and Tanto headphones from Urbanears, GoFlex Slim Hard Drive by Seagate.
This article is part of the Technology and Design series, brought to you by Intel®, creating a better future with next-generation technology. Read all of the Technology and Design articles here.