And now for the category that can sometimes leave us (and you) scratching our heads and wondering what in the world  – we now give you our most favorite posts that have us thinking WTF…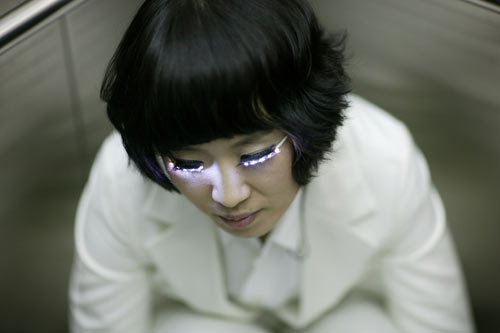 LED Eyelashes by Soomi Park
Exploring the notion that all women want to have beautiful, large eyes, LED Eyelashes might be the way of the future to achieve that. Freaky, but intriguing, right?
LED Wine Cellar by Jamie Beckwith
An underground wine cellar that goes back to the future by way of the 'burbs and blue LED lighting.
Proaesthetics by Francesca Lanzavecchia
A project that explores devices for the disabled in hopes of opening up a discussion and as a way to learn to cope with such disabilities.
Dancing Dress by Ninna
A remote-controlled dress that dances for you so you don't have to break a sweat. (watch the video!)
The Bare Hair Project
Poufs made for a hair studio, with the help of discarded hair and plastic coverings made from recycled bottles, as a way to re-think about something that is normally considered useless and ugly to be turned into something functional.
Al-Hamad Design
A company who definitely thinks outside the box with their quirky and innovative twists on home furnishings. This human-sized floor lamp is the perfect example. Shake the lamp's hand to turn it on and off.
Blah Blah Blah Book by Gogelmogel
A book full of nothing but blah, blah, and even more blah.
Natural Keyboard by Robbie Tilton
A computer keyboard with hopes of giving the user a tactile and natural experience and an escape from the cold, metal world we live in today.
BITE ME: The Edible Desk Lamp by Victor Vetterlein
A real, working lamp made out of edible and biodegradable plastic that never has to see a landfill. When you're tired of it or just have the munchies, remove the LED strip, and have yourself a tasty little snack.
Burritobot: The Tortilla-Filling 3D Printer
And just when you think you've seen it all, out comes the tortilla-filling 3D printer of our dreams. The Burritobot, a concept inducing cries of joy heard 'round the world, prepares a burrito to your liking by adding just the right amount of ingredients. Heaven…