Motek Chair by Luca Nichetto for Cassina
The Motek Chair by Luca Nichetto for Cassina appears to be simple with clean lines & a sleek silhouette but uses car technology for its rigid form.
How It's Made: McNabb's City Sphere from Scrap Wood
We go in depth with artist, designer & woodworker James McNabb to see how the City Sphere, a dynamic wooden, cityscape sculpture, is designed and made.
GLYPH CUE Winter 2014 Collection
For this Deconstruction, we visit GLYPH CUE CLOTHING, artist Matt W. Moore's company, to see how they design and produce their seasonal line of apparel.
How the Cartesian Chair is Made
See how designer Alexander Purcell Rodrigues worked with Neal Feay to create a sleek new aluminum chair using cutting edge techniques.
Designtex's First Digitally Printed Products by Surface Imaging Studio
When Designtex acquired Surface Imaging, the companies were able to join forces to bring unique customized wall coverings to a broader audience.
What Goes into Making a Handmade Rug from The Rug Company
The Rug Company partners with designers on handmade signature collections that will make you swoon. Take a look at how Alexander McQueen's rug is made.
Design and Development of Adobe Ink
Take a look at Adobe's long design and development process of getting the revolutionary Ink and Slide iPad stylus pen and ruler ready for the market.
Hive: Leather Patches Create 3D Upholstery Textiles
Take a look at how this beehive-inspired collection of ottomans and tables for B&B Italia featuring a three-dimensional leather textiles is made.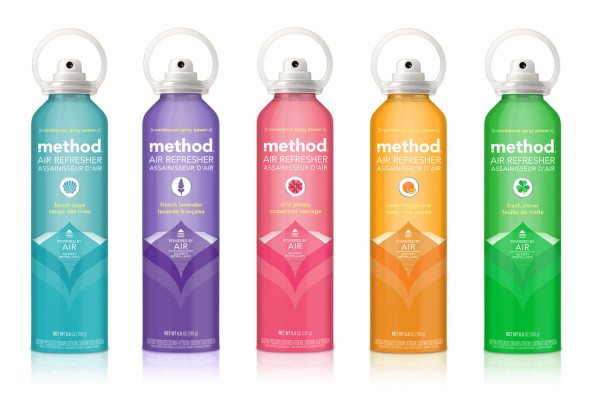 A Better Way to Spray: Method Disrupts Air Care Industry
Method's new air refreshers are the first of its kind in a plastic bottle and we talk to the team about their near-impossible design and challenges.
The Ghostly Mark Series by Matthew Shlian
Watch how Matthew Shlian masterfully executes a completely new version of the iconic Ghostly logo by rotating the shape into a spiraling vortex with paper.
The Making of Calico's Marbled Wallpapers
The pair behind Calico Wallpaper's handmade metallic marbled wallpapers takes us through the process of how it all begins in this Deconstruction.
The Design Process of the Plumen 002 Bulb
Take a look at the years of research and development it took to launch the latest sculptural light bulb, the Plumen 002, in this Deconstruction.