Out fondness for jewelry is pretty obvious. I mean, we created a sister site, Adorn Milk, where we sell all kinds of modern jewelry that we obsess over. That said, jewelry is that added something we put on in the morning that elevates our outfits, and sometimes our moods. That's why receiving jewelry as a gift is pretty special. It doesn't have to be super expensive for us to love it and to love how it makes us feel when we wear it. So, we rounded up some favorite pieces of jewelry, plus a few accessories, that we'd love to have in our own collection.
RillRill Earth Necklace \\\ $148
Handmade in Portland, this muted necklace features a granite pendant and sterling silver tube that hang from a stitched leather cord.
Pyramid Necklace by Base Modern \\\ $85
Available in solid brass, solid aluminum, and black aluminum, this oversized pendant resembles the shape of a pyramid.
Mar Necklace – Yellow by Surface Handmade \\\ $67.99
Made from hand-sculpted clay, this playful necklace features a squiggly yellow pendant suspended on a leather cord.
XO Kiss Necklace by Elyse Graham \\\ $198
Cute and playful and sealed with a kiss! Available in rose gold, gold, silver, and black rhodium.
Carina Nebula Earrings by KONZUK \\\ $225
Simple yet dynamic, these earrings feature cast concrete with diamond dust mixed in to resemble the southern skies.
Circle Earrings by Young Frankk \\\ $118
Hand-fabricated sterling silver earrings that are like a never variation of your standard hoop earrings, this time with the hoop being solid silver.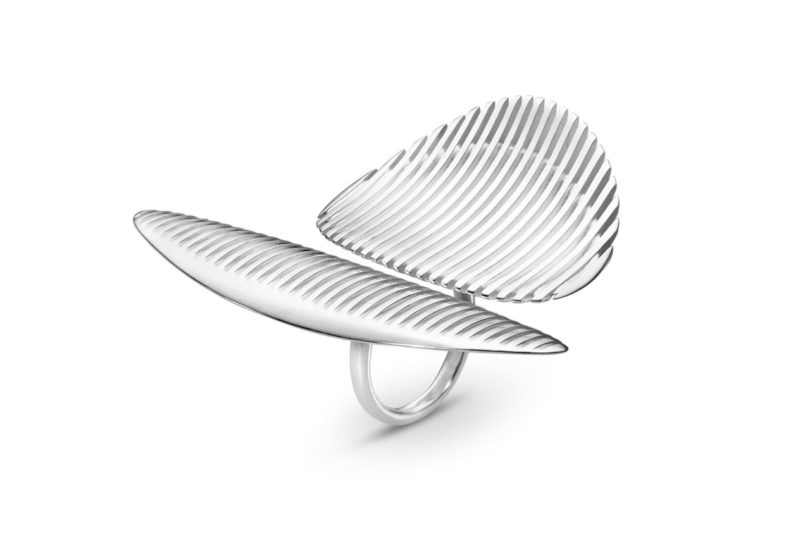 Lamellae Twin Ring by Zaha Hadid for Georg Jensen \\\ $750
A collaboration that asked architect Hadid to design a jewelry collection for Georg Jensen inspired by her Wangjing SOHO buildings in Beijing.
Cuzco Metal Ring by L'Artisan Créateur \\\ $210
A bold geometric ring composed of three stacked triangles made of horn and rose gold metal.
Lightweight Two Way Circle Ring by Marmol Radziner Jewelry \\\ $240
Made from solid brass, this lightweight ring has a cut out circle on either side and comes in light, dark, and a white brass finish.
Evi Bracelet by Lesh \\\ $175
Using a mix of vibrant and neutral fibers and hand-dyed rope, this adjustable, handwoven bracelet comes in a variety of color palettes you can choose from.
Pleece Beanie by Marianne Abelsson for Design House Stockholm \\\ $54.60
A cozy and slouchy hat in their signature pleated Pleece fabric that will keep your head warm all winter long.
K Studio Cloud Scarf – Off White \\\ $160
Simple cloud pattern stitched onto Belgian linen to make the most adorably modern scarf for those cloudy days.
Bonus:
Good At Naps Enamel Pin by People I've Loved \\\ $12
A pin that perfectly sums up what most adults can say is a resume-worthy skill.

Design From Around The Web