The holidays are an excuse to splurge on a loved one or even yourself so what better way to show you care than to upgrade a health, beauty or personal care routine? These gift ideas keep on giving with benefits that will continue to manifest long after the holidays are over. Here are 10 items that will help the recipient feel like the best version of themselves when they ring in the new year.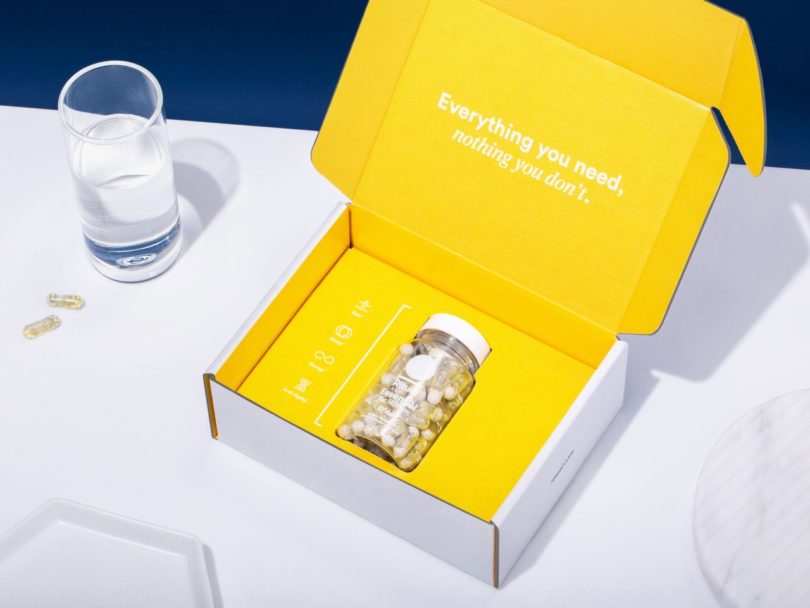 Ritual Essential for Women Vitamins \\\ $30/month
At the beginning of the year, I decided that taking vitamins was going to be a priority for 2018 so I looked to Ritual to help me out. The company was founded Kat Schneider who couldn't find a satisfactory supplement that had clean ingredients, a priority for her since she was pregnant at the time. So, like most industry disruptors, she decided to create her own. I've been taking this vitamin for about a year and what I love about it (other than the pleasant mint taste that makes taking vitamins less of a chore) is the brand's website lists where all the ingredients are sourced and who manufactures them. There are even interviews with the manufacturers so you can read up on why each nutrient is, in fact, essential for women's health. (FYI, for women who are thinking about starting a family, Ritual just released a prenatal vitamin for your body and baby).
The Nue Co's Functional Fragrance \\\ $155
Today, The Nue Co is launching what they're calling a "functional fragrance," a unisex scent designed by perfumer Frank Voelkl with scientific research from the Geneva Emotion and Odor Scale (GEOS) to lower cortisol levels and help you relax, reset and re-center. Don't call this a perfume though. Functional Fragrance contains organic and natural ingredients like green cardamom, iris, palo santo, violet and cedar wood for a scent that's not overwhelming or suffocating like a perfume might be.
Herbivore Botanicals Emerald Deep Moisture Glow Oil \\\ $48
For "cannaseaurs" who love harnessing the benefits of cannabis, Herbivore's Emerald facial oil is for you. Ingredients like squalane, meadow foam seed oil and borage seed oil lock in moisture while the hemp and adaptogens like ashwagandha root, shiitake mushroom and turmeric help combat against environmental stressors and reduce signs of aging.
Public Goods \\\ From $1.00
Meet the Warby Parker of personal care. Public Goods covers an array of beauty and household items like toothpaste, dish soap, shampoo + conditioner, body wash, hand soap, facial cleansers, deodorants and everything you could possibly need – all without the middleman markup so everything is ultra affordable. It also doesn't hurt that the packaging is simple and minimal, perfect for the person who loves having their top shelf match across the board.
Circumference Essentials Collection \\\ $340
With so many industry disruptors in so many markets now, I'm starting to be a bit wary of the brands that come my way. Do millennial companies really know more than heritage brands? Have they done their research? Are they just fooling me with their sleek packaging? However, when it came to Circumference, I had no qualms about revamping my skincare routine and switching over completely. Circumference offers a line of clean beauty that's luxurious and comforting to use, not just because it's made without toxic ingredients, but also because it considers the unsustainable exploitation of natural ingredients too. Their Pure Balancing Botanical Face Oil ($100) is my favorite (three drops or so goes a long way in moisturizing your skin) but their refreshing Active Botanical Refining Toner ($60) is a close second for fortifying my face with nutrients right after my hot shower.
Maude \\\ From $12
Maude wants you to talk about sex without inhibition, embarrassment, or outdated and gendered approaches. The company has been featured in Forbes and the New York Times as a brand that's redefining the sex essentials industry. The brand is gender-neutral, inclusive and let's face it, really beautifully designed. You can shop for massage candles, personal massagers, organic lubricants, 100% natural latex condoms on their site – all of which looks as Instagram-worthy on your bedside table as your Aesop hand lotion. We love that the two women who founded the company, Eva Goicochea and Dina Epstein, are opening up the conversation and changing the way we think about sex.
Mount Lai \\\ From $25
Perfect as a stocking stuffer, Mount Lai's line of jade and rose quartz racial rollers help with draining your lymphatic nodes through a simple facial massage. I love keeping my jade roller in my freezer for the added cooling effect. If you dedicate the time to using a gua sha (a contoured stone that more evenly controls the pressure when you're doing your facial massage), the benefits are worth the extra time – my mom who's been using one for years looks 20 years younger than her actual age. (PS: You can shop Mount Lai at your local Sephora!)
LARQ Water Bottle \\\ $95
At the root of all age-old beauty tips, drinking enough water is probably #1 on the list. LARQ wants you to stay hydrated but it does more than keep your water in near reach. It wants to clean it too. The LARQ water bottle uses proprietary and patented technology that neutralizes up to 99% of the bacteria that makes your water harmful and odor-causing using UV-C light. The self-cleaning is activated every two hours, giving you the cleanest water to drink.
Amayori Hinoki Onsen Japanese Hot Springs Experience Set \\\ $60
I can't even begin to tell you how relaxing soaking in a Japanese hot springs onsen is, so you'll just have to try it yourself. In lieu of a ticket straight to Japan, this Hinoki Onsen Experience Set will help you recreate the experience in your own home. The set includes four individual use packets that replicates the benefits of a hot springs soak with a mineral mix of magnesium chloride, sulfur, magnesium sulfate, and sodium bicarbonate. If you've never smelled hinoki essential oil before, trust me, it'll become your favorite scent.
Port Products Daily Essentials Kit \\\ $78
This skincare regimen for men keeps it simple with just a cleanser, shave cream and daily moisturizer. Made in Los Angeles, the kit uses pure and effective ingredients to help with hydration and inflammation. For the guy in your life who hates being in the bathroom any longer than he has to be, this is perfect for him.