2021 Year in Review: Unframed
Each month our Design Milk art expert, David Behringer, checks out the best of what's happening in modern art in New York City galleries. He seeks the coolest exhibitions and shows that most of us wouldn't even know existed, and shares an up close and personal experience of the artist and their work. If you missed any of his posts or just want to take second look, read on for a visual exploration of NYC's art scene from our Unframed column in 2021.
2021 Year in Review: Unframed
1/1 Photos
Employing thousands of black stir straws, a room-sized stack of clear dividers, and "drawings" made from meticulously manipulated metal screens, Tara Donovan's unfathomable work came together for an exhibition titled "Intermediaries" at Pace Gallery in New York. Her obsessive transformation of familiar material is difficult to believe and impossible to exit.
The kaleidoscopic sculptures of Monir Shahroudy Farmanfarmaian (1922-2019) were on view at both locations of the James Cohan Gallery in New York. These incredible works hold thousands of mirror sections that dance like a diamond under a microscope. Ignited by your own abstracted reflection they offer an otherworldly surprise with every step.
Danish-Icelandic artist Olafur Eliasson's exhibition at the Tanya Bonakdar Gallery was nothing short of jaw-dropping. A hypnotic play of colorful light that feels like peering into the cosmos, "Your ocular relief" rewards the most curious visitors with a behind-the-scenes peek at how the phenomena is created in real time.
Sam Moyer's exceptional exhibition Tone was on display at Sean Kelly Gallery in New York until April 24th. Presenting paintings that incorporate large pieces of marble and a room of precariously balanced sculptures, it was a poetic, strong, fragile, and ethereal exhibition worth visiting in person.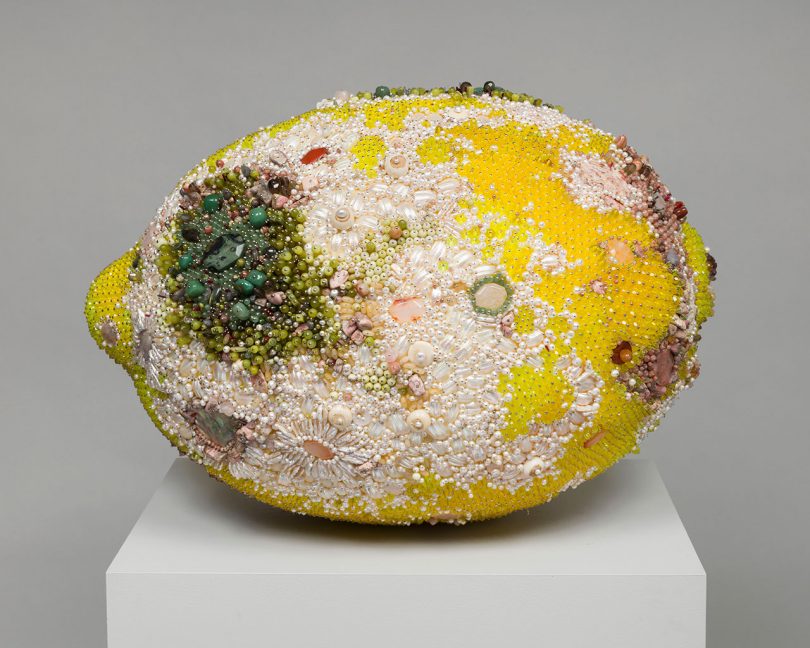 New York-based sculptor Kathleen Ryan captures the surprising beauty of decaying fruit by perfectly pinning thousands of individual minerals, gemstones, and glass beads. Her work is a universe where white mold is made from pearls and fishing rods become cherry stems. Ten of her oversized sculptures were on view at Karma in New York City earlier this year.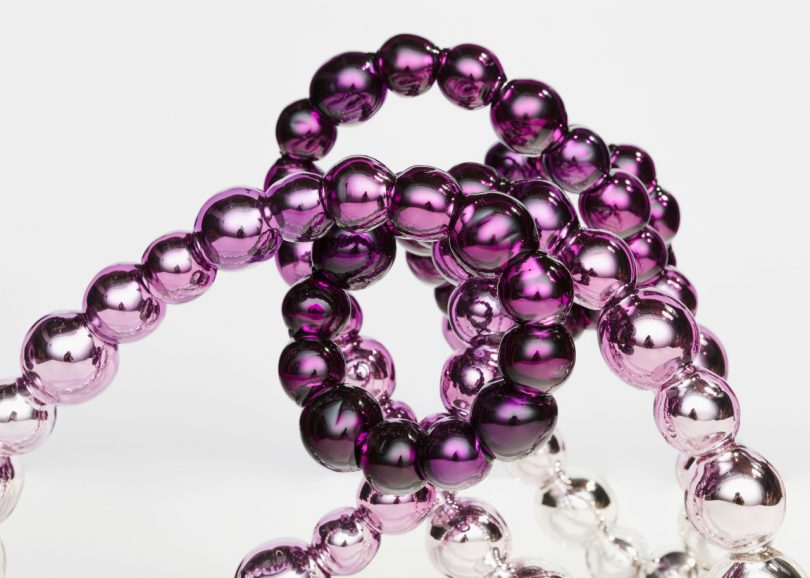 Legendary French artist Jean-Michel Othoniel presented two series of work at Perrotin Gallery in New York this past summer. Showcasing colorful mirrored glass sculptures and gritty paintings on gold leaf, Wild Rosebuds is a must see.
World-renowned artist and architect Maya Lin planted 49 dying trees in the middle of Manhattan in a surreal and jarring display of climate change titled Ghost Forest. Commissioned by the Madison Square Park Conservancy and paired with other programming, the artwork was on view through November 14, 2021.
Acclaimed contemporary sculptor Ron Nagle is well-known for his perfectly crafted and highly curious objects – most measuring no larger than 5 inches. His latest work was on view at Matthew Marks Gallery in New York through October 23rd in an exhibition titled "Necessary Obstacles".
Detroit-born artist Matthew Angelo Harrison's first solo exhibition at Salon 94 in New York felt ancient and futuristic, seductive and uncomfortable, completely human and totally alien. "Ambidex" displayed 8 polished resin blocks that suspend objects in time – each "emblematic of the United States in some way." These CNC-altered works often cut into the objects they contain: wood African sculptures with uncertain authenticity, exotic animal skulls, and the headlight of a Tesla. With hypnotic beauty, Harrison's work questions our myths and beliefs about labor, American history, commercialism, identity and beyond.
The Amsterdam-based artist duo DRIFT is known for deconstructing and remixing reality, transforming everyday objects into surprising sculptures that shift our perceived relationships with the world. DRIFT's exhibition at Pace Gallery in New York presented new work from their "Materialism" series, which breaks down objects into their exact individual materials and quantities to reveal the hidden recipe of ordinary things. DRIFT Materialism: Past Present, Future was on view through December 18th, and ran concurrently with their blockbuster exhibition at The Shed.