A Bright Prague Apartment With Colorful Accents + Built-in Nooks
A Bright Prague Apartment With Colorful Accents + Built-in Nooks
1/23 Photos
2/23 Photos
3/23 Photos
4/23 Photos
5/23 Photos
6/23 Photos
7/23 Photos
8/23 Photos
9/23 Photos
10/23 Photos
11/23 Photos
12/23 Photos
13/23 Photos
14/23 Photos
15/23 Photos
16/23 Photos
17/23 Photos
18/23 Photos
19/23 Photos
20/23 Photos
21/23 Photos
22/23 Photos
23/23 Photos
Welcome Home is a recently completed project by No Architects, who designed a modern apartment for a family with small children. The Prague apartment received a reconfigured layout that includes a new multipurpose room that works as a study, playroom, and guest room. Sliding doors can close to hide the room from the living room when it's not in use or for privacy when someone is visiting or needing to work. Even with the doors closed, the open kitchen, dining room, and living room provide ample space for the family to enjoy.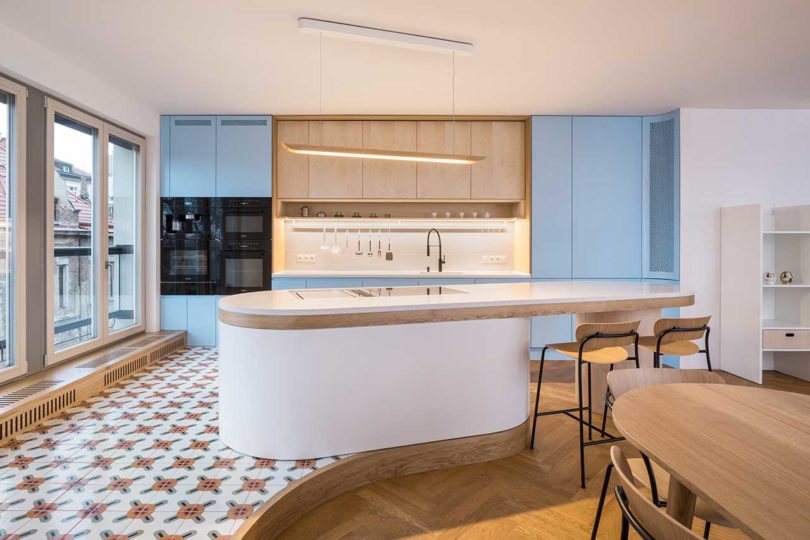 The unique kitchen boasts an oval, angled island with two bases in different finishes. The larger white base rests upon an elevated floor decked out in a patterned tile, while the wood column base sits on the main herringbone floor. The cabinets include a row of wood fronted uppers with light blue cabinets surrounding them.
The blue cabinets curve at one end, complementing the curves of the island and raised tile floor.
A double-sided, navy blue leather sofa floats in the center of the living room surrounded by built-in storage and display cabinets. One side of the sofa faces the television, while the other looks towards the windows with views of Prague.
The combo room just off the living room houses an elevated, built-in bed with storage under and behind it. On the opposite side, a light blue desk setup lives beside a large wooden storage cabinet with red legs.
The all-white hallway gets a boost from a cobalt blue console table that rests against the wall.
A seating nook with storage is built into the hallway near the front door, offering a good place to drop belongings after entering the apartment.
More wooden storage cabinets with red legs outfit the entryway.
A child's room features a modern bunkbed that's complete with storage, stairs, hidden lighting, and a privacy screen.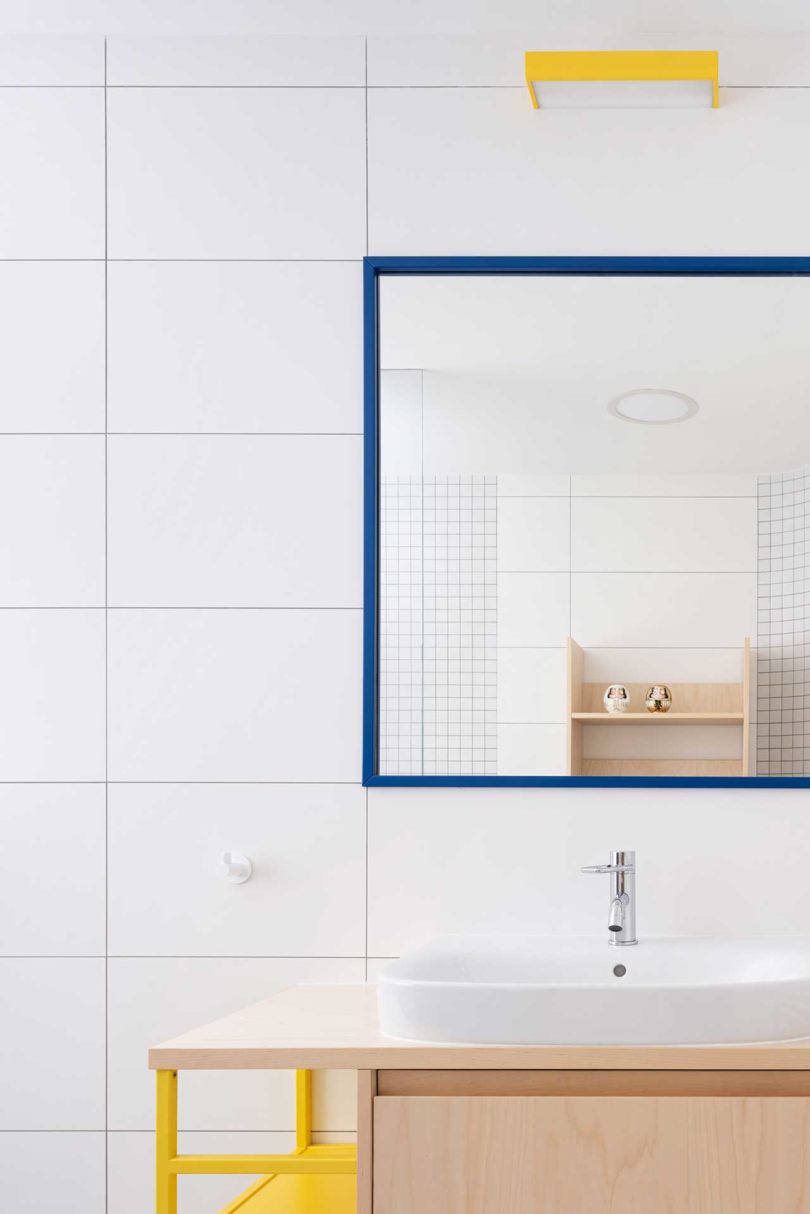 Photos by Studio Flusser.