Have you met Betty? If not, you should say hello. She's one of the latest designs Bend Goods has dropped and she's a keeper. Betty was designed to stack when you want extra chairs on hand but don't necessarily have the space to keep them out all the time – she's super practical. Plus, they gave her a chic, bohemian look with triangular details that can work on warm summer nights on the patio or at your dining table. Let's see how Betty was born in this month's Deconstruction.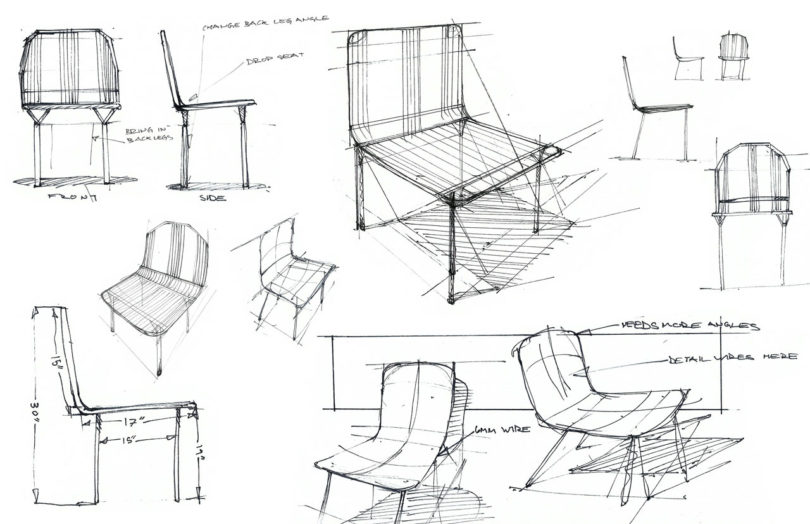 1. It all starts with a sketch. The pencil to paper realization of a thought or a dream. These are the very first sketches that started the whole process and gave life to what we know today as the Bend Goods Betty Stacking Chair. You will quickly see how the page came to life when we took these sketches to the metal shop.
2. Our thought originally was to keep Betty's shape and her lines more simple and streamlined. As you can tell here, we gave her a lower back than we have in the past with our Lucy and Ethel Side Chairs. In turn, we decided to add some width to her seat. We were hoping to make Betty comfortable but more compact at the same time.
3. As you can tell from the first few images, the original version of Betty was not stackable. We initially tried to make all four of her legs parallel to each other. We liked that design visually but didn't feel like it was stable enough for the high-traffic environments that our furniture can find itself in. Eventually we decided to add some angle to the back legs to improve the stability. We also decided to add some detail to the back rest and make her a little more interesting.
4. This is a photo of one of the first sit tests done with the Betty Chair. The sit test is one of the most important tests that we do throughout our design process. With our minds on comfort as much as they are on style and beauty we take the sit test very seriously. We try every position from the slouch to perfect posture and everything in-between. It's important to know where the back rest is hitting the average height male and female body type for comfort level.
5. After much internal thought, scrutiny and discussion we decided to go a very different direction with the design of Betty. We added more pitch in the back and a very different geometric design throughout the body of the chair. We also decided to redesign her legs ultimately making Betty stackable which is something that we get requests for a lot.
6. Another sit test this time performed by one of our sample welders testing out his work. It's important for us to have many different perspectives as far as comfort it concerned durning the design process. Every change that is made makes the design a brand new one for us. The tests have to start all over like it has never been sat in before. Our ultimate goal is to make not only a product that you look good in, but also one that you feel great in as well.
7. Feeling like she needed something, we decided to take Betty into Rhino (3D modeling software) to try a new geometric pattern before returning to wire. One thing that makes our chairs so comfortable is the closeness in the lines of their seats. We wanted to find a new way to carry that idea over to this new chair but in a very different way. We wanted Betty to feel more bohemian and casual but still elegant in her own way.
8. Having decided that we liked the boho, kind of dreamcatcher quality in the seat, we started to play with the backrest. We tried many different designs and narrowed them down to these top two choices. It's funny how the smallest change can really give new life to a design. Offsetting the triangles just slightly gives her a totally different feel.
9. As you can tell from this version, we landed on the more triangular pattern in the back rest. That design felt very Navajo to use and really fit with the sensibilities and inspirations that we have been surrounding ourselves with lately. Here is the final version of the Bend Goods Betty Stacking Chair in all her glory!
10. Here you can see how the Bend Goods Betty Stacking Chair has as much function as she does style. We are really excited about this new leg design and looking forward to testing it out on future designs very soon.