A Modern Home in the Trees You'd Never Know Was in Texas
A Modern Home in the Trees You'd Never Know Was in Texas
1/19 Photos
2/19 Photos
3/19 Photos
4/19 Photos
5/19 Photos
6/19 Photos
7/19 Photos
8/19 Photos
9/19 Photos
10/19 Photos
11/19 Photos
12/19 Photos
13/19 Photos
14/19 Photos
15/19 Photos
16/19 Photos
17/19 Photos
18/19 Photos
19/19 Photos
The Live Oak Ridge Residence is a new project from Devin Keyes of Keyes Office of Architecture located amongst the rolling hills of West Lake Hills, Texas. The modern home rests above the treetops offering views of the surrounding hills while maintaining privacy from the street. To help with the Texas heat, there's plenty of outdoor space that's covered, as well as a swimming pool just steps from the house.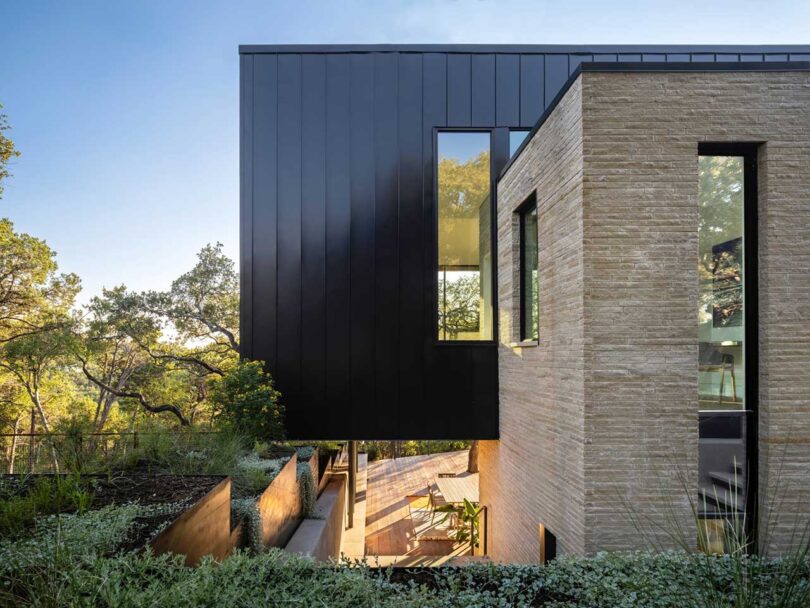 The home's exterior features two juxtaposing materials – pale limestone and black metal panels – that work together for a visually intriguing presence. The stone-clad volume acts as the entryway from the street and hub to the more private areas of the house. The kitchen also lives inside the stone structure with one side facing the hills and the other with views to the front yard.
The soffits are clad in cedar wood, complementing the decking that surrounds the pool.
The lower level opens up to the outdoor entertaining spaces from a series of bedrooms and a living room with two glass walls.
The upper floor operates as the main living space with the kitchen, dining room, living room, seating area, primary bedroom suite, guest quarters, and a large outdoor balcony.
Clerestory windows from the front of the house and massive windows that wrap the open living room keep the interior filled with natural light while providing scenic views.
The main bedroom has its own balcony at the opposite end of the one in the living room.
Photography by Leonid Furmansky.