There's an undeniable quest in the world to make things smaller, thinner, and more manageable. And when it's done right we're often left wondering how we ever lived otherwise, at least that will be the case with Wilsonart's new THINSCAPE™ Performance Tops. For KBIS 2019, the brand is introducing a European-inspired ultra-thin countertop that's unlike anything else that currently exists in the marketplace.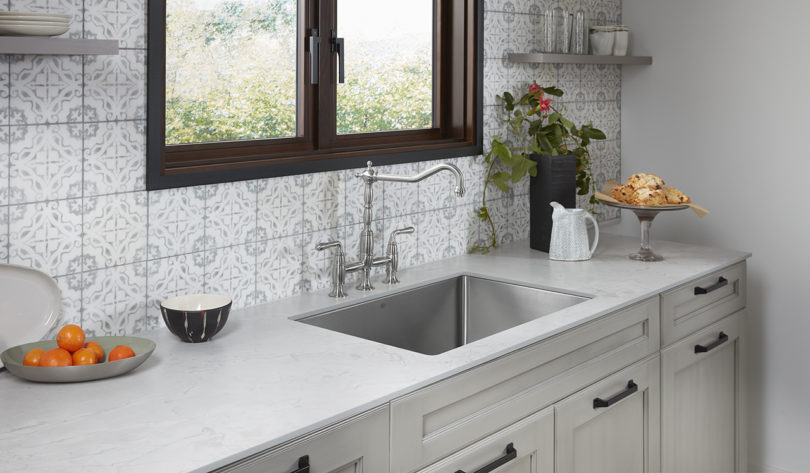 Created on a half-inch foundation, THINSCAPE Performance Tops are glamorous and elegantly designed – a newly attainable luxury that will be available at an affordable price later this spring. The collection offers up 12 incredibly durable, versatile, ultra-slim decorative slabs featuring a variety of trending surface material looks including large-scale stone, quartz, planked wood and aged metal designs. All are water-resistant, impact-resistant, stain-resistant, and easy to maintain in the kitchen.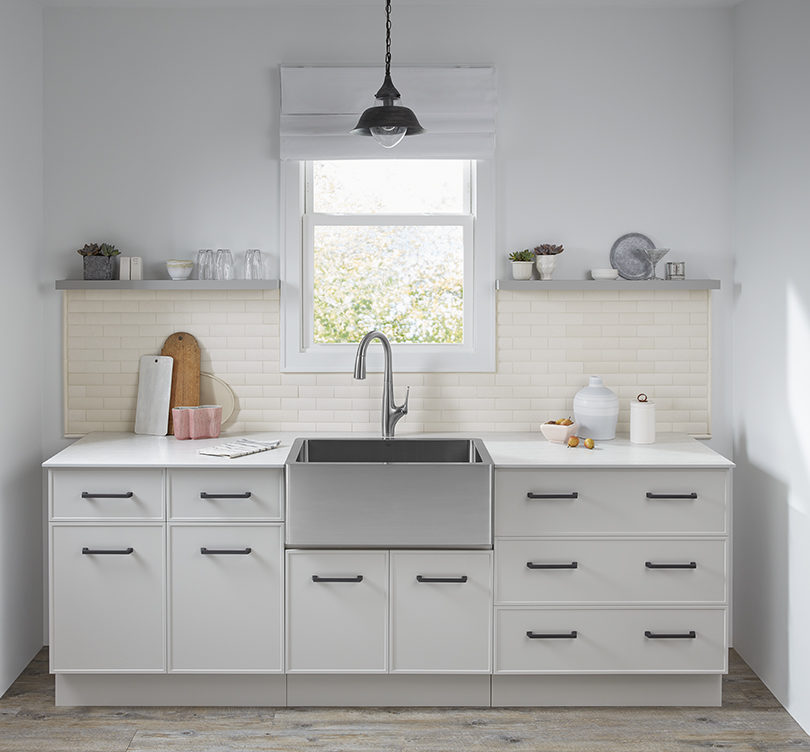 Design Milk got in touch with Wilsonart designer, Brooke Mays, to learn more about what went into the creation of this breakthrough product.
"We started working on THINSCAPE in the United States back in early 2018. Wilsonart UK had great success with this product for several years, which proved the potential of a thin product, with performance capabilities, in the US," said Mays.
As we know, different market's aesthetic preferences and manufacturing processes can vary, such was the case between the UK and United States.
"Our design and manufacturing needs are a little different here in the US than they are in the UK, so we set to work developing a product that would fit perfectly in American homes. On the design side, this meant using the extensive knowledge of residential kitchen and bath trends that Wilsonart has acquired throughout the years as manufacturers and designers of Laminate, Solid Surface and Quartz. We visited many stone yards around the country and were able to develop beautiful marble, quartz, and quartzite looks that create a unique, high-end look. We also wanted to include additional unique surface material looks for the home. This desire led us to developing the Distressed Pine and Rugged Steel options that make an eye-catching statement," Mays noted.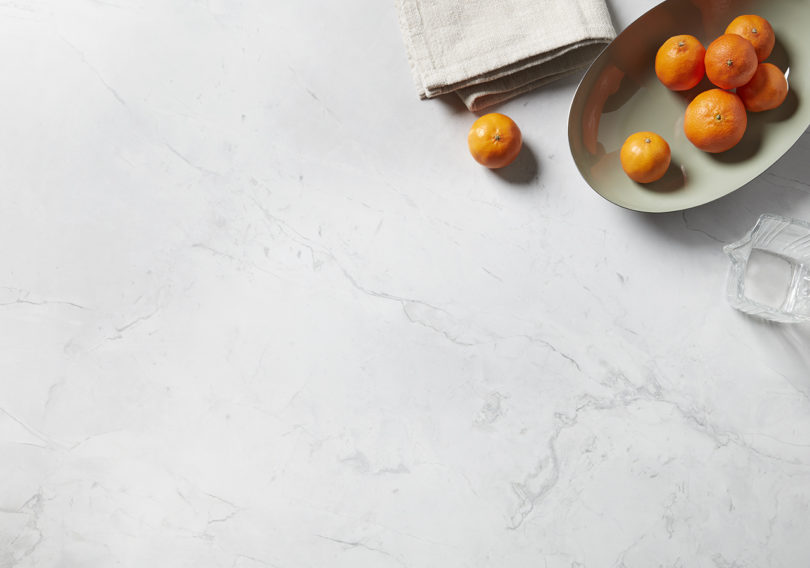 Fashion and tech trends were both big influences when it came to designing THINSCAPE Performance Tops, so we asked Mays what other aspects helped Wilsonart to identity the hole in the market for such a product.
"Traditional hard surface products like marble and granite are beautiful and durable, but come with a huge price tag that many simply cannot afford. Porcelain has a modern, thin look but lacks durability. THINSCAPE fills a gap between these products and provides a cost effective, beautiful, and durable product for the home. THINSCAPE is also much easier to fabricate than stone products and does not require special tooling, which makes it accessible to a wider range of professionals."
One of the biggest benefits of THINSCAPE from a professional standpoint lies in the fabrication; a selling point for designers and fabricators alike. Having the advantage of the use of dry woodworking tools makes it easier to create corners and cut-outs.
"Not only does the product fabricate with dry tools, but it also cuts out the steps of deck polishing and extensive edge profile detailing that most hard surfaces require. Because of dry tool fabrication, THINSCAPE allows for on-site adjustments and finishing, which can save the fabricator the time of having to go back to their shop to make a small change."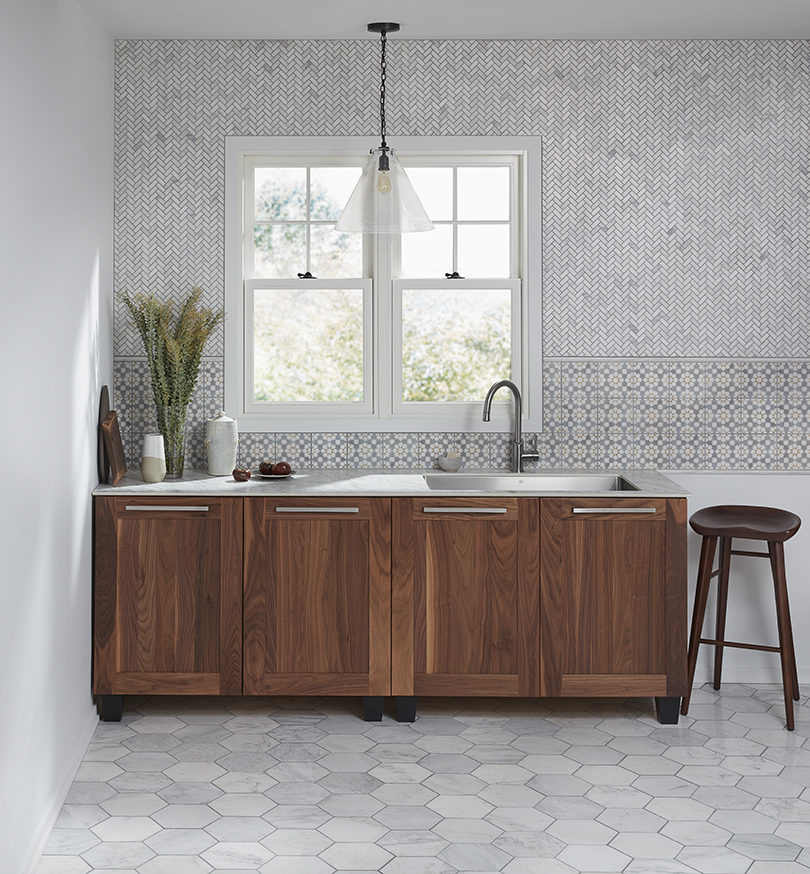 THINSCAPE Performance Tops were developed for use in the kitchen and bath, but what other unique ways might interior designers look to use the product?
Mays offers that, "THINSCAPE is the perfect material for out-of-the box applications! It's easy to route into shapes without cracking or breaking, and is incredibly strong so it will not bend or bow. One of our designers is already working with the material to remodel a console table, our UK team uses the product for shelving. We are only just beginning to understand all of the amazing possibilities that come with the development of a new product!"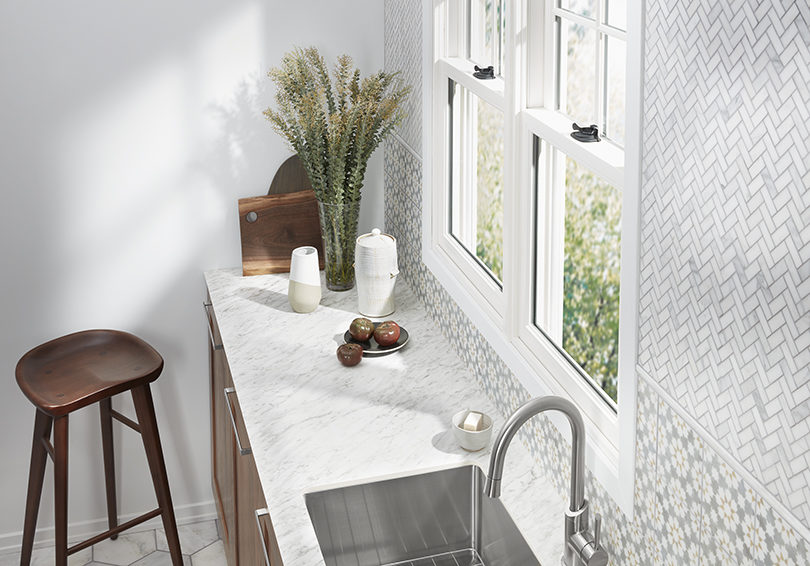 Wilsonart THINSCAPE Performance Tops are manufactured right here in the United States, which makes more of a difference than you might immediately realize. And they'll come with UL GREENGUARD's Gold Certification for indoor air quality.
"Our ability to make this product domestically makes a huge difference to our customers. Manufacturing in the US allows us to control the supply chain and availability so that product is always available to our customers; with no worries about tariffs or supply lines as there are for some other engineered products," Mays adds.
These beautiful, thin countertops are ideal for kitchen countertops and bath vanities, and even laundry rooms and garage worktops. Both professional installers and DIYers will be drawn towards THINSCAPE Performance Tops for the ease of installation and everlasting durability. Achieve the look of granite, marble, and soapstone without the care and maintenance, or the price tag.
Visit wilsonart.com to see their current offerings in countertop solutions.