When a neglected 1961 George Lucker home was in need of a repair, SHED Architecture & Design stepped in to reimagine the residence for an intergenerational family. The mid-century home resides on a Seattle hillside overlooking Lake Washington, perfect for a family longing to embrace the natural surroundings, an open floor plan, and a new master suite.
The Seattle-based firm kept the original footprint of the home and focused on reconfiguring the interior to create connected spaces that benefit from natural light. The kitchen was moved to one end in order to make a large open space to house the living room, dining room, and kitchen all together. A sunroom was removed and replaced with a deck that has views of the lake and mountains.
A glass panel was installed in the entryway storage to bring natural light to the lower level of the house and landing.
The entryway was opened up to provide views from the front door to the back deck while still offering lower storage and open shelving.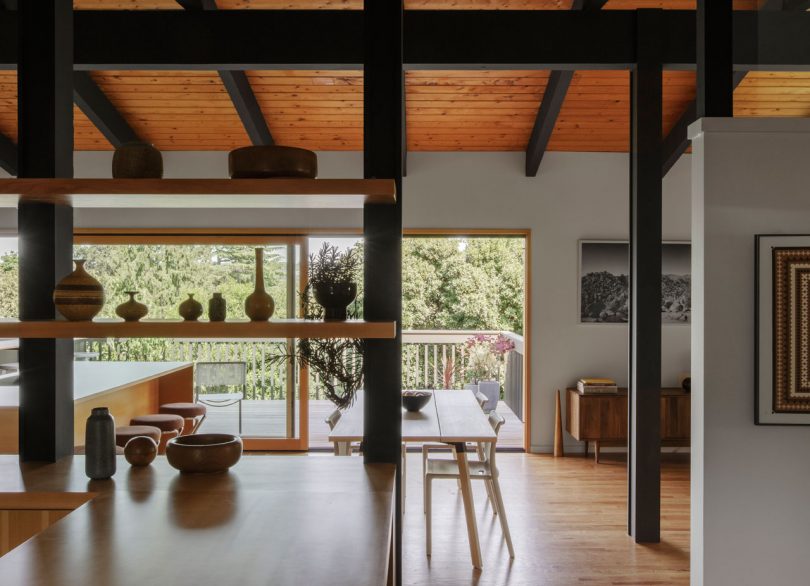 The original ceiling beams were restored to create dramatic high ceilings and a warm color palette throughout. Vertical grain fir, plastic laminate, and red oak flooring were incorporated to blend cohesively with Lucker's original design.
An existing skylight remains in the master bathroom to fill the space with daylight.
Before:
Photos: Rafael Soldi
Contractor: Thomas Jacobson
Structural Engineer: Todd Perbix