A Place Called Home is Airbnb's latest design endeavor, where they brought to life different interpretations of home by four acclaimed designers. During London Design Festival, the exhibition was on display in London at Trafalgar Square, where designers' personal visions became reality.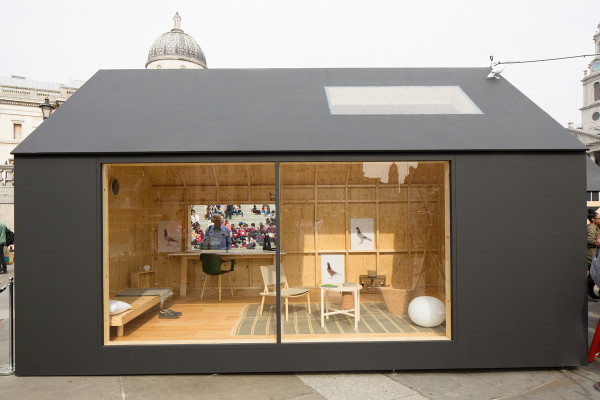 British designer Jasper Morrison imagined a home that's based on a pigeon fancier's house, because of course those are probably the only things that would live in Trafalgar Square. The pigeon fancier was what led the simple, neat vision of the home.
Scattered throughout are quirky, curious paraphernalia that hints at a pigeon fancier's passions. The exterior of the home included roosting boxes and external perches for the pigeons.
Ilse Crawford of Studioilse, went a very different direction and created a space asking the community what home means to them. The home references daily rituals, highlighting the mundane yet comforting parts of home in a recognizable and playful way.
Throughout the space, scenes of everyday life are projected onto the walls, while a soundtrack of background noises (kettle boiling, doors closing) play in the background. A fragrance is even being developed that embodies the smell of home. You can see the question "What does home mean to you?" clearly displayed for visitors, who can respond via twitter.
Raw Edges, based out of London, created a flexible home that has the ability to change into different rooms at different moments in time. Inspired by a movable archive system, their home can be opened up to reveal the bedroom, living room, kitchen, and bathroom with a turn of the handle. Different panels hide or reveal the rooms, depending on use.
One central, pendant light is the sole light source while other clever details exemplify the flexibility of the home. For example, the showerhead also acts as a shelf for the kitchen, and the bed and lounge hammock fold away when not in use.
This home is a great example of how to maximize space efficiently in small space living.
Lastly, pattern experts PATTERNITY, created an installation that's all about using pattern in engaging and inspiring ways. Beyond just using visually striking patterns, their installation digs beneath the surface to reflect the world around us. Inside the home lays three giant kaleidoscopes that reflect the world in a repetitive pattern.
Cutting through to the exterior, the large kaleidoscopes create an interactive experience for the community to play with.
Photos by Ed Reeve.

Design From Around The Web