Alcarol is serious about bringing together organic materials and giving it new life. Whether it's the "skin" of the Dolomite mountains or timber from the Venetian lagoon, each piece in their collection capture a single moment in the life cycle of these natural materials. They might look familiar due to their Marble Ways tables.
With Bricola, oak logs from the Venetian lagoon are naturally 'seasoned' by shipworms, creating a series of circular holes on the outside. However, the interior of the logs remain untouched, leaving a striking contrast between life and decay. They then use transparent resin in between the oak logs to create the solid surface of each piece.
Dolomyth gives nod to the Dolomites, a complex mountain range in Italy. The collection utilizes stone from the mountains, which have undergone years of geomorphological evolution and natural weathering, to create a set of stools that resemble rocks being submerged under water.
FishEye is another set of stools that mimic the historical pools in the canals of Venice. Like Bricola, the wood from the canals have also undergone their share of shipworms leaving their trace. However, in FishEye, alcarol filled the empty holes of the wood with resin, to make the wood look like what it once was.
Lastly, Undergrowth features recovered moss and lichen from the Dolomite mountains and preserves them in a console table and set of stools. Varying degrees of decay result in a gradient of vibrant green and brown that decorates the pieces.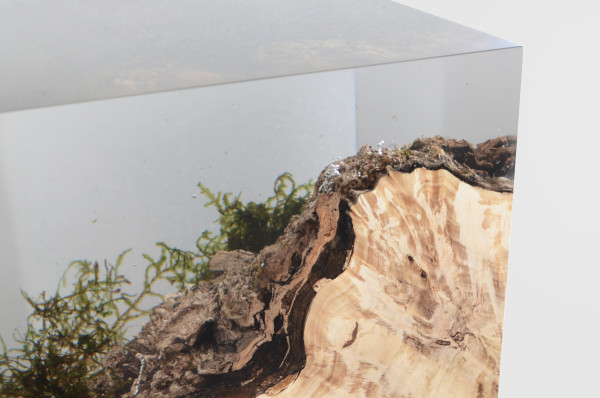 Design From Around The Web