Dubai-based multidisciplinary artist Aljoud Lootah creates by mixing traditional silhouettes and concepts with modern elements. Patterns, folds, and geometric shapes are all a big part of her inspiration. When designing products, Lootah looks to interpret the Emirati culture, traditional craftsmanship, and contemporary design – and she's just released three new product designs.
Lootah's Mandoos collection finds inspiration in an important part of UAE culture and tradition, wooden chests that are embellished with brass nails called mandoos. Each mandoo is covered with designs and engravings, and while still displayed in many UAE homes, they no longer hold a person's most valuable possessions as they once did.
The Mandoos collection celebrates the importance and history of the mandoo through the addition of modern design elements such as an intricate camel leather weave, embellished metallic studs, and leather straps. Each box is lined with teal colored suede, a color often found in Khous weaving, for a modern touch. Created in several different sizes, each handcrafted box has separate drawers and compartments with their own specific purpose.
The medium-sized box in the Mandoos collection was designed to hold Oud, a valued item by most people in the UAE, and a hidden compartment holds a metallic tong used in the Oud burning process. The squared box with leather straps allows for versatility to create multiple spaces according to need, while the larger box is created to hold jewelry and watches, it's even fit with a removable tray that's convenient for today's jet-setters.
Photos on grey background courtesy of Mark Cocksedge.
Lootah designed the Takya Stool as a reimagined memory from her youth, when it was common for seating areas to have cushions against the wall for people to lean on for comfort. They were also perfect for building walls and forts and growing children's imaginations!
The Takya Stool's cushions can be stacked upon one another, with accented camel leather trimmings and rings that allow each to slip easily on and off the ash wood base.
The Khous Sofa was designed to have a modern appeal with a nod to the past. The strip of camel leather that's been placed in the center is woven in a pattern that mimics Khous weaving, a traditional style of weaving that used dried palm fronds. The illusion of the strip being woven and in and out and around to the back of the sofa makes it a beautifully thought out design element that really makes the piece.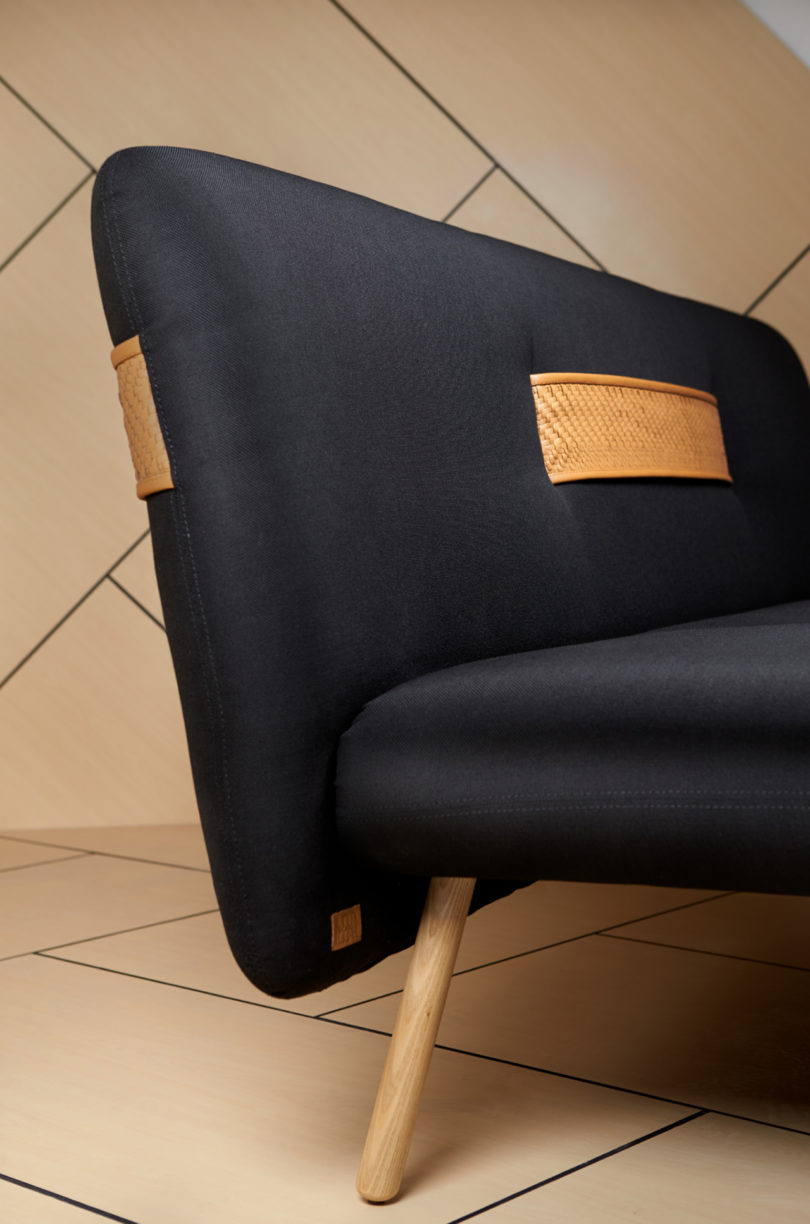 See more of Aljoud Lootah's work at aljoudlootah.com.

Design From Around The Web