An Austin Apartment That Reflects Its Film Producer Owner
An Austin Apartment That Reflects Its Film Producer Owner
1/15 Photos
2/15 Photos
3/15 Photos
4/15 Photos
5/15 Photos
6/15 Photos
7/15 Photos
8/15 Photos
9/15 Photos
10/15 Photos
11/15 Photos
12/15 Photos
13/15 Photos
14/15 Photos
15/15 Photos
44 East Avenue is a minimal apartment located in Austin, Texas, designed by Austin- and London-based interior design studio Stelly Selway. The 1,221-square-foot unit comprises two bedrooms, two bathrooms, and an outdoor patio. The space serves as both a functional residence and a sanctuary for its owner, a female film producer in her thirties.
The design team maximized impact through deliberate choices in color, texture, and storage solutions. Built-in cabinetry and shelving provided practical utility while adhering to the apartment's coherent visual narrative. Adding a handmade touch, Stelly Selway designed custom maple plywood shelving units. Here, the designers made the conscious choice to leave the wood's edge stack exposed, showcasing its unrefined material quality.
"We ended this project sitting at a 100-year-old dining table with our client eating jelly beans from a vintage Japanese tea seat. She was sitting on top of the table laughing while she showed us her collection of fashion designs from the different films she's worked on, and told us stories about the people who wore them. The most memorable thing was how the space allowed her to express herself freely and be a source of inspiration through this period of her life," says Stelly Selway.
The apartment is pulled together with walls in a soothing lime-wash hue, charmeuse hemp silk window treatments, earth-toned rugs, and vintage and antique elements sourced from Stelly Selway's extensive network. Each design choice was deliberately aimed at mirroring the client's unique interests in nature and the creative arts.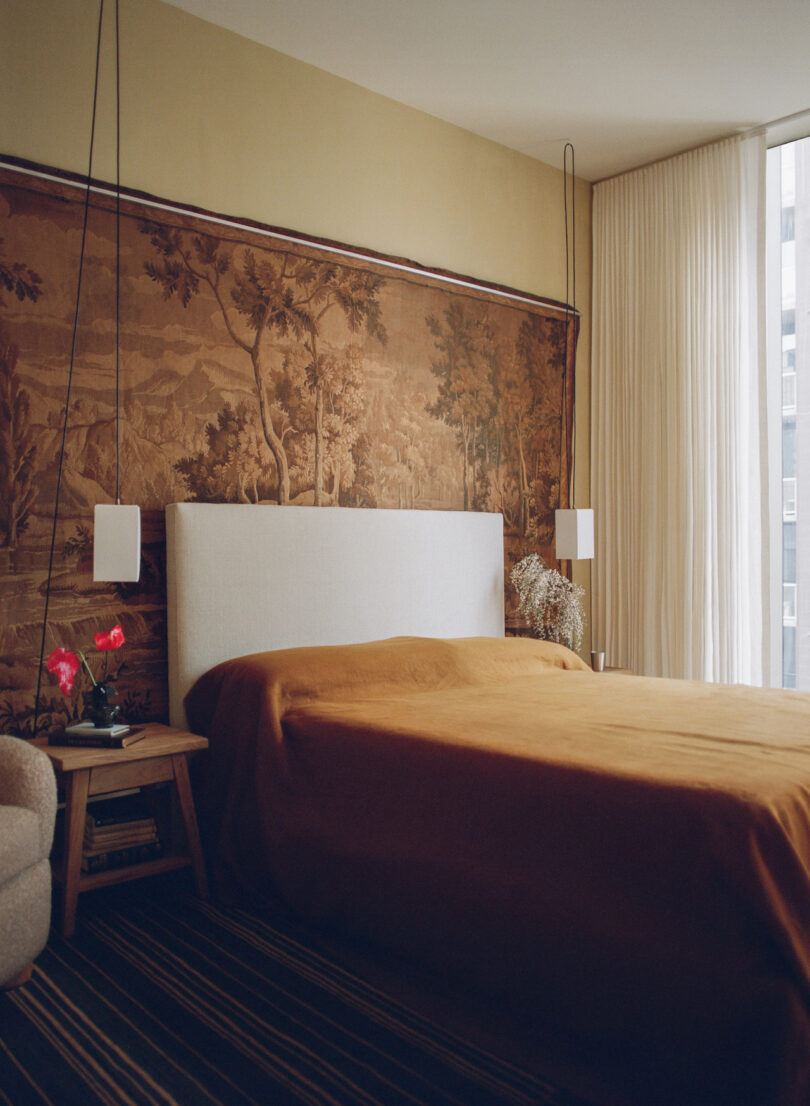 Photography by Austin Leis.