Just two hours from the Czech capital Prague lies Pec pod Sněžkou – one of the country's most popular ski resorts set in a picturesque mountainous location. And yet, until relatively recently, a supermarket built in the 1980s cut right through its heart, its long, low-slung form acting as a barrier to the countryside beyond, and its dated architecture and unkempt grounds proving somewhat of an eyesore for locals and visitors alike.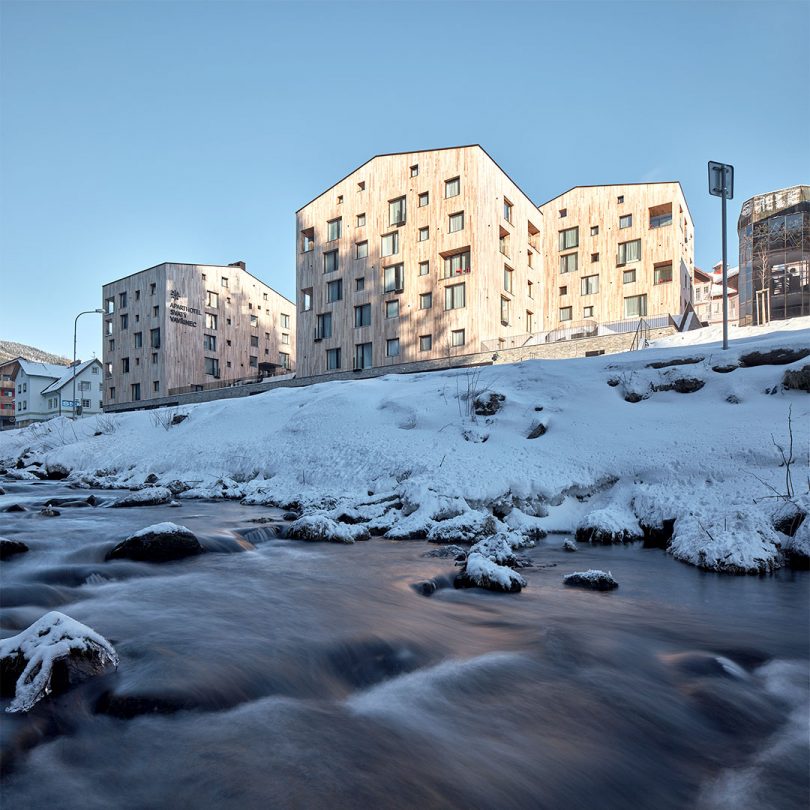 Enter Prague-based architects OV Architekti (OV-A), and seven years of design and development later, it's a very different picture. Named after Olympic medalist Vavřinec Hradilek, the Aparthotel Svatý Vavřinec now stands proudly in its place. Four individual 'houses,' built over a retail space and garages set into the hillside, break up the view offering access to the rural landscape and glimpses of the distant horizon.
In between them, and covering the retail units below, a manicured meadow with meandering pathways creates a welcoming space with an intimate yet neighborly vibe. The parterre is stone-clad and the meadow is an intensive Optigrün green roof with retaining ribs on slanted planes. The roofs of each building are covered by an extensive green roof with sedum matting.
There is an outdoor grill with seating, a children's playground, and the space in front of the apartments doubles as terraces for individual suites. A new harmony between nature and the built environment has been reached.
Each of the four houses is sized and oriented differently, creating an exciting spatial relationship between them, reinforced by the ascending terrain. The seemingly erratic window placement on the façades was conceived to give each of the four buildings its own distinct character.
Stilts built into the landscape offer support for the reinforced concrete core construction, topped with brick, insulated with mineral wool, and clad with red cedar – drawing on the local vernacular in a style frequently seen in early 20th century multi-story buildings around the Pec pod Sněžkou area.
Entry to the 114,000 square-foot Aparthotel is through the reception lobby at street level. The winter entrance leads to the ski-room in which each apartment owner has his or her own ski box.
The shared spaces include a restaurant, a games room for adults with a 3D golf simulator, a teenage games room, a children's games room, a lobby with a fireplace, and a restaurant specializing in grilled meat.
A sauna provides warmth and relief to aching muscles after a day on the slopes.
There is even a winery complete with floor-to-ceiling chiller in which residents and guests can have their own personal wine boxes.
The commercial spaces include a supermarket, a pharmacy in the style of 'shop in shop' connected to the supermarket, a sports goods store, and a ski and bike service shop.
Inside, 90 serviced apartments, ranging from one-bedroom to four, are mostly owned by Czechs as second homes and rented out to holiday-makers when not in use – a full hotel-style service and shared outdoor swimming pool benefit both.
Four interior schemes, characterized by different material and color palettes, offer both choice for owners and predictability for renters. A golden star on the door indicates a 'glamourous' style characterized by dark oak and gold embroidery and ornaments, which create a sense of warmth amongst the snow-capped surroundings.
The Scandinavian option, signified by a 'V', features light tones of whitened spruce in combination with white ornaments on dark blue textiles – and of course the obligatory reindeer head, surprisingly located in the bathroom.
A small blue cross on a light colored background references local folk embroidery and the Krkonoše (Giant Mountains) apartments. The veneer is pine plywood and the interior is complemented by the traditional Giant Mountain chair.
And for Modernists, an elegant 1950s and 60s inspired interior is denoted by a triangle. OV-A used natural materials, such as stone and pine throughout to evoke the surrounding mountainous landscape and to connect guests with nature even while indoors.
What: Apart-hotel Svatý Vavřinec
Where: Apart-hotel Svatý Vavřinec, Pec pod Sněžkou, Czech Republic 355, 542 21
How much: From $290 for two people for two nights
Highlights: Only 100 meters from the ski-lift to Černá hora and a favorite winter retreat for the Czech Republic's great and good, including actresses Markéta Hrubešová & Aňa Geislerová.
Design draw: The cultural highlights of Prague are only two hours away, but locally, you can be inspired by the natural landscape surrounding the Aparthotel and of course the architecture and design by OV-A.
Book it: Apart-hotel Svatý Vavřinec
Photography by Boys Play Nice.
Go virtually on vacation with more design destinations right here.