For this month's Destination Design, we head to Athens, Greece to check out AthenWas, a Design Hotels™ property situated in one of Athens' most ancient neighborhoods, offering a classic modernist feel with its nod to mid-century details and ancient Greek architecture. The hotel, which stands in the foothills of the Acropolis, was designed by Stavros Papayiannis of Stage Design Office to be a fresh approach to Greek design.
The interior was designed with large, light-filled spaces that benefit from the shiny marble and walnut, two materials that are prevalent throughout. Throughout the hotel, furniture by legendary designers, like Le Corbusier, Ettore Sottsass, and Michael Graves, was used.
Just off the street, the hotel's restaurant invites guests and anyone passing by to come into the classic space full of wood, spicy tones, and a buffed marble floor. The space's mid-century feels comes courtesy of the Luisa Chair, by Franco Albini, a 1950 design for Cassina, along with accessories from Ettore Sottsass, Michael Graves, and Mario Botta.
The modest hotel houses 21 guest rooms, which incorporate warm walnut elements and prints of sculptures and artifacts from the National Archaeological Museum. Each room is decked out with custom lighting by designer Konstantin Grcic and comes with a balcony to enjoy the sights of Athens.
Lighting from FLOS adds another modern layer to the guest rooms, like the suspended OK lights by Konstantin Grcic by the bed and the Piani lamps by the Bouroullec brothers on the desk.
Some of the suites have perfect views of the Acropolis! The blue Mod.548 lamps by Gino Sarfatti for FLOS add a pop of color next to the bed.
On the hotel's 6th floor, there's a restaurant and bar with unbeatable views of the Acropolis, Parthenon, Temple of Olympian Zeus, and the old Olympic stadium.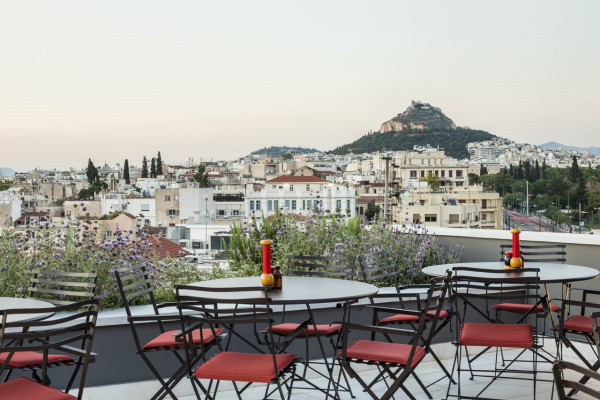 What: AthensWas
Where: 5 Dionysiou Areopagitou, Athens 11742, Greece
How much? Rooms start at €145 per night
Highlights: Historic location with unbeatable views, iconic design pieces from renowned designers, and a cozy, old-meets-new aesthetic that's easy to love.
Design draw: Greek architecture meets mid-century with a nod to classic modernism.
Book it: Go here to book a room or email [email protected]
Go virtually on vacation with more design destinations right here.