Once a small dental office, this 60 square meter (645 square foot) attic in Milan, Italy was converted into a two-story apartment, dubbed CPR, by +R Piuerre. Despite its size and strict layout, the bones of the space worked well thanks to windows on three sides. The tall ceilings allowed for a second level where an office and bedroom are situated with a walk-in closet.
Between the living room and the kitchen, there's the only closed off space, which houses the service areas. A blue-grey color on the wall makes the white steel staircase pop. The load-bearing part of the stairs is hidden to keep its lightness.
The folded staircase takes up very little space and provides a division on the top level between the office and the bedroom.
The design ranges from warm wooden elements to smooth, shiny surfaces giving each space depth and texture.
The custom kitchen features white cabinets and a sunny yellow countertop that extends down to a lower bank of cabinets that doubles as a bench. The simple table can be moved around for various functions.
The countertop changes to another color in the corner helping to denote different functions.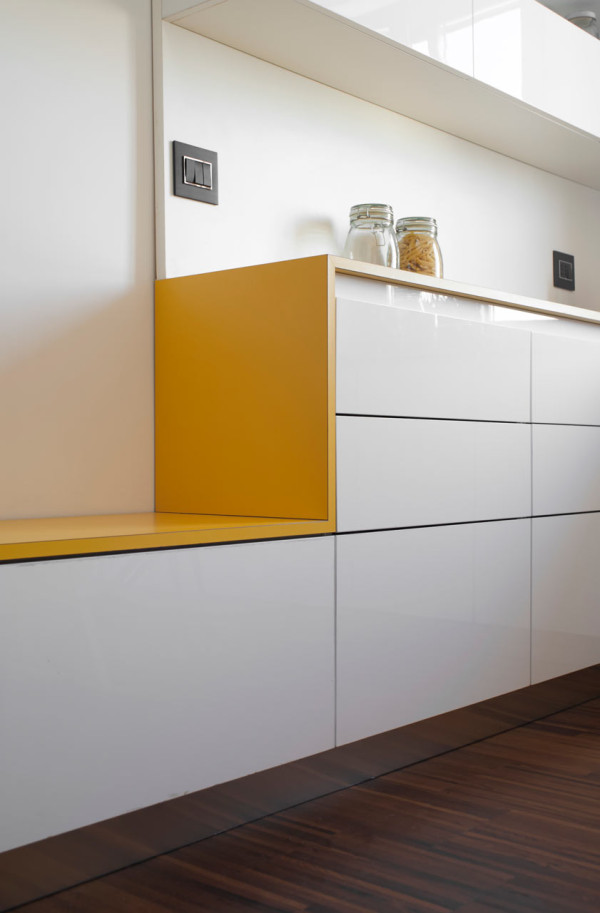 One side of the bedroom has a wall of polycarbonate panels that let light from the skylights filter down to the kitchen.
In the downstairs corridor, they used a series of horizontal mirrors to help reflect light and give the illusion of more space.

Design From Around The Web