We wrap up our coverage of ICFF, where we highlight the best modern and contemporary home furnishings that were presented at the 2014 furniture fair.
These two-sided back chairs by Silvia Ceñal for TWO.SIX Creative Design can be used individually or in various configurations, like back to back, or in fours with each seat facing out.
TWO.SIX Creative Design also had these wooden stools that have ribbony swirls of Portuguese fabric on top that creates a comfortable seat.
Urbio has taken the clever storage world by storm and this year they added to the functionality of the product by creating handy inserts that fit into the vessels to keep your stuff even more organized.
Trove Wallpaper had a host of new designs and we loved this pattern featuring a layered flower and leaf motif. Photos don't do it justice though!
Brendan Ravenhill displayed new lighting where the wood grain of the form that shapes the shades is left behind after spinning the metal. The flatter ones remind me of drum cymbals.
Grow House Grow was back with some city-inspired wallpaper designs.
Michele Varian's pendant lamps feature copper shapes that have a fun laced detail at the seam. We also loved her geometric wallpaper.
We always love seeing what Dino Sanchez has been up to as he's usually creating goods that have such a beautiful simplicity about them.
The W.K.WU Products / Cosi Come booth had so much going on that it was hard to narrow it down. We loved this fold-up desk with turquoise metal details.
They also had these cool side tables that come in various color stories and look like layered squares.
The last one from this booth was this chair made of a circular frame and two different sized elastics that weave together to form the seat. It looks flat until someone sits in it.
Meystyle has taken wallpaper to a whole new level by incorporating LED lights into their designs. Crazy, right?
Nicolas Pichelin, of Structures, designed the Mini S7 lamp for Ameico. The curly base of the white table lamp is adjustable so you can light up anything you want.
Liqui's Work lamp mimics the lamps you see on construction sites but this one is for the home. They paired bamboo with an industrial steel cage that lets light flow through.
Also from Liqui is the Cell range of lamps that comes from their love of the industrial process of spinning metal. Bamboo cages wrap the metal to hold it in place.
The Office for Lost Objects have a way with wood. We loved this chair that was so beautifully made and full of rich details.
The bottom of the chair
Moonish designs really cool geometric tiles that are easily installed thanks to magnets on the back. That means, you can move them around your house or take them with you when you move. They also do floor tiles as well.
More from Moonish
At Donald Alexander, they showed this really neat storage piece that's made up of layered wood boxes and a hint of red for good measure. Part of the British European Design Group at ICFF.
Aperiodix is a concrete wall tile system from Oso Industries that is based on a set of three triangles that can be laid out in an aperiodic or a non-repeating pattern.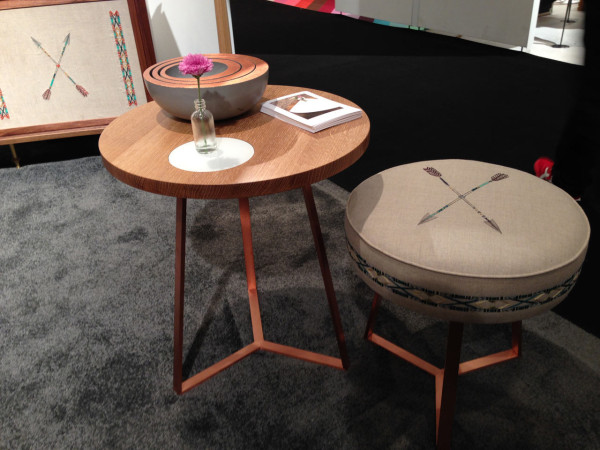 And last, but certainly not least, is VOLK who presented the new St. Charles Collection of furniture and a new collaboration with Coral & Tusk.
Also from VOLK