10. Ainste Modern Minimalist Wallet
Ainste's Evan wallet, which comes in tons of colors, materials and sizes, is a minimalist's dream wallet.
9. 3D Print Your Bag & Everything You'll Need on a Trip
3D printing master Janne Kyttanen has reduced everything you could need for a trip down to digital files so you can 3D print your stuff when you get there.
8. A Line of 3D Printed Clothing Based on Defects
A graduate project that consists of stunning, sculptural fashion pieces made with the help of 3D printing, pleated fabric, tulle, and silk organza.
7. Style Survival Kit by Tom Dixon for Adidas
Partnering with Adidas, Tom Dixon designs a stylish survival kit of clothing, shoes & accessories for travelers including the bag in which to carry it.
6. Pixel Panties: Made with Squares, Fit for Round Bottoms
The Pixel Panties are a pair of 8-bit looking panties that were inspired by 80s video gaming which lead to dreams about women in pixelated lingerie.
5. Design Nori: Laser Cut Seaweed for Sushi
Umino Hiroyuki of Umino Seaweed Shop paired up with advertising agency I&S BBDO to create laser-cut, designer seaweed with intricate patterns for sushi.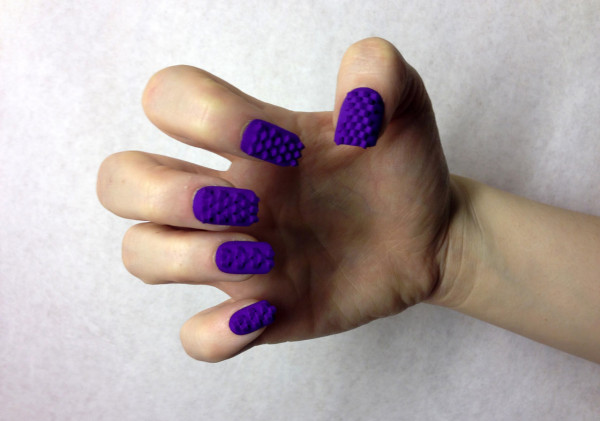 4. 3D Printing Might Just Change Your Manicure
Digital artists Sarah C. Awad and Dhemerae Ford, aka TheLaserGirls, are about to change the manicure game with their collection of 3D printed fingernails.
3. Naomi Kizhner's Parasitic Powered Jewelry
An entomological-inspired bio-feedback jewelry collection taps into the human body as an energy source and not just as an adornment for the body.
2. A Slim, Environmentally Responsible, Reusable Water Bottle
memobottle is a slimline, BPA free, dishwasher-friendly, reusable water bottle that resembles the size and shape of pieces of paper so it fits in your bag.
And the most popular Style + Fashion post of 2014 is…
1. Sexy, Wearable Tech from CRAVE
This gorgeous necklace hides a sexy secret: it's actually a vibrator! Vesper is a USB rechargeable vibrator that's disguised as an elegant necklace.