Southern California-based sisters, Hopie and Lily Stockman, are the masterminds behind Block Shop, a textile company that brings a modern California vibe to textiles that are created through the traditional hand block printing process in India. Working with a family of printers and dyers in Bagru, Rajasthan, the brand makes a gorgeous array of scarves, pillows, and rugs featuring contemporary motifs. One of those such pieces is the Soleri Scarf, a design inspired by Arcosanti, the unfinished desert community conceived of by architect Paolo Soleri, who died before its completion. In this month's Deconstruction, Block Shop shares the process of the scarf's evolution.
Step 1. Research. Most designing happens in our DTLA studio, where the first step is putting down our phones and computers and digging into our textile library. Our designs are usually inspired by a combination the architectural motifs in our urban surroundings—Los Angeles and Jaipur—nd the artists we love. The Soleri scarf is our ode to architect Paolo Soleri's unfinished concrete masterpiece in the Arizona desert, Arcosanti.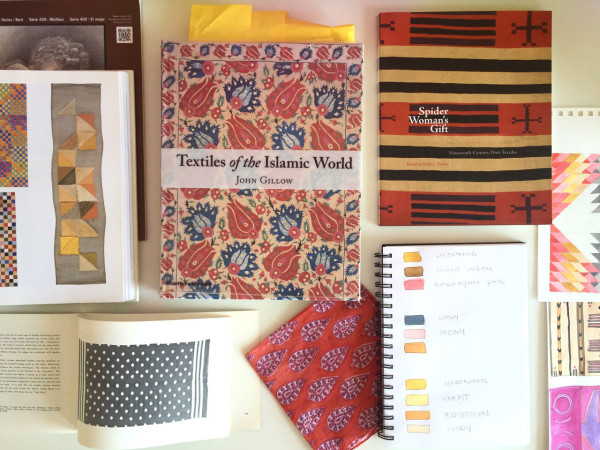 Step 1. Research. "Textiles of the Islamic World" by John Gillow is one of our touchstones. It's chock-full of abstract pattern inspiration spanning Indonesian batik sarongs to Egyptian tent panels.
Step 2. Design with Watercolors. We design by hand with watercolors. We find the looseness of the brush allows for compositional possibility and high level thinking. And perhaps more importantly, our team in India works better off watercolors, versus PDFs with strict measurements. If what we show them is loose / approximate, they can interpret shapes and colors in their own way. After six years of working this way, it's still the most thrilling part of the process– the evolution of our designs in the hands of our master printers.
Step 3. Tweak Designs. We bring dozens of sketches with us to India. The first day we arrive in Bagru, we sit down over chai with our master printers, dyers and carvers, and talk about how to bring the designs to life. After lots of good-natured arguing, we agree on the colorway, shapes, and scale of each pattern. These early morning, jet-lagged conversations are where the collaborative magic happens. Everyone weighs in.
Step 4. Block Carving. After finalizing the design we draw each isolated shape that make up the pattern onto graph paper. Our main block carver Raju then stencils the design onto a flat, 3-inch thick slab of sisam wood. The pattern is then carved into the wood using a hammer and series of specialized chisels. Each block is its own work of art.
Step 5. Dye Mixing Part I.
Before dyeing, our fabric is scoured, which eliminates all starches and impurities from the manufacturing process. Then it soaks in a bath of harda, a natural mordant extracted from the myrobalan nut, Terminalia chebula, which binds our natural dyes to the fibers of the fabric.
Step 5. Dye Mixing Part II.
Our distinctive color palette comes primarily from traditional plant and mineral dyestuffs: true indigo, Indigofera tinctoria, for our blues; begar for pinks, reds, and oranges; alum for greys; fermented syahi for black. Some dyes are boosted with non-toxic chemical dyes for brighter, more colorfast hues, such as the rich salmon shade of the Soleri scarf.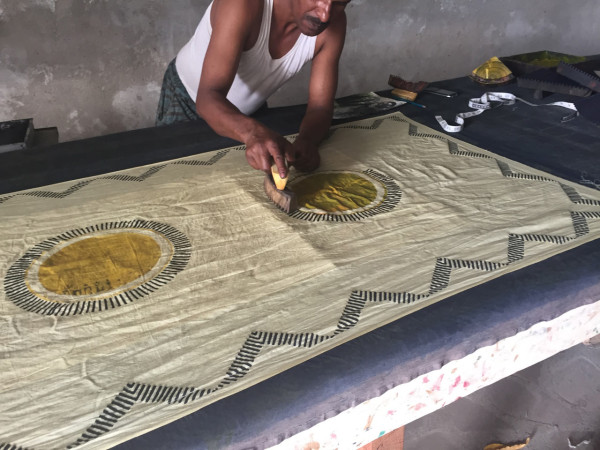 Step 6. Printing. For the Soleri scarf, a master printer dips the wooden printing block in a dye tray, then stamps the block on the fabric with a hard pound of the fist at the center of the block, ensuring even printing. He will repeat this from left to right, aligning the blocks perfectly by eye from years of experience.
Step 7. Experimenting. We always print multiple versions of a design in various shades and compositions until we get it juuust right. This Goldilocks-ing can take days and is a highly collaborative process. And it's why all our prototyping must happen in person.
Step 8. At last! We loved the striking combination of black against salmon, and the simplicity of the repeating Soleri shapes running down the center of the scarf. Every design must pass the "Wall Test"– does the composition hold up on the wall?
Step 9. Flower Bath. The scarf is left out to dry for three days, then boiled in a large copper pot in a bath of alum and dried flowers for softness and colorfastness.
Step 10. Drying. The scarf is given a final washing, and dries (again) in a communal drying field or hung from the roof. Our printers' homes and workshops are built around this field.
Step 11. QC. Each scarf is inspected by our team in India and then shipped to our Los Angeles headquarters.
Step 12. Finished product at home in Bagru.