Thomas Dariel of Dariel Studio took on the challenge of designing a functional and unique home for a family in Shanghai, China. After a renovation that spanned over several months, the result is a sophisticated penthouse of any modern-lover's dreams called the Blue Penthouse.
To start, they opened the rooms up to create more space and with the help of a huge void, they had a double-height ceiling that maximizes the openness and allows more light to come inside. White sets the tone of the residence but they brought in plenty of color, like the bright blue you'll see throughout. The copper pendants pop hanging down from the ceiling.
A suspended cube was created to house the homeowner's office. While working, he can still look out and see his home and family.
The spiral staircase becomes the hub of the home as it was moved to the center of the apartment. The circular space connects and leads to all of the rooms in the home. The stairs are highlighted even more as they're built over black and white marble that's laid out in a graphic pattern.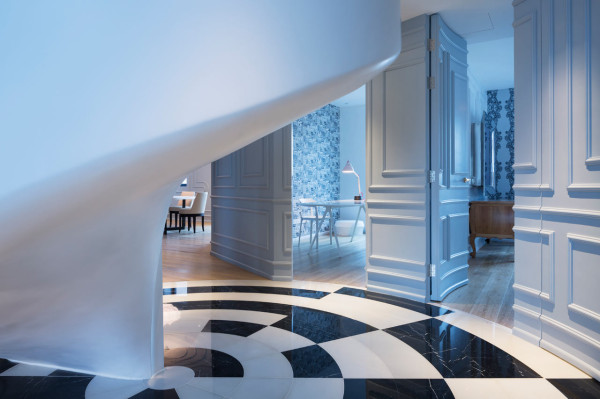 Despite the home's modern appeal, they brought in classic elements, like the French molding you'll see in each room. When the doors are closed, the molding's pattern continues and so does the rhythm.
Graphic shapes on the ceiling and walls creates a dynamic dining room space. A non-traditional shaped dining room table from B&B sits in the center and is surrounded by traditional-looking chairs from Philippe Hurel.
The family sits at the bar for breakfast and behind the glass is the wine cellar outfitted with organic-shaped shelves.
Cabinets and wardrobes were inspired by the homeowner's love of travel and old luggage.
Gorgeous details are sprinkled throughout with unique pieces of furniture and wallpapers.
They did away with traditional walls for the master bathroom as it would have blocked all of the natural light. Glassed on two sides, the bathroom becomes the focal point of the space.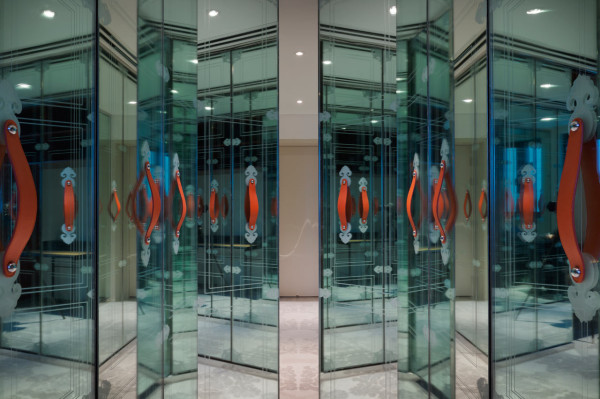 Photos by Derryck Menere.

Design From Around The Web