Most cars are designed to embody well established shapes, proportions and colors already associated with beauty. Beyond purely conceptual exercises or exceptional new models, automotive manufacturers rarely set out to tip the scales toward risk, especially rare in regards to cars adorned with an established lineage. Yet, the German giant BMW is setting out to shake things up with their newly unveiled Concept M8 Gran Coupe – a design expressing aspirations to redefine what a flagship means sitting at the vertex of their line-up.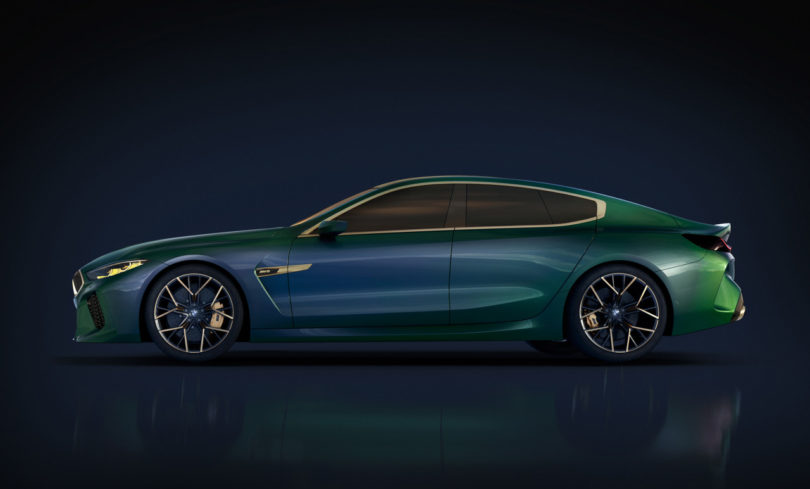 Domagoj Dukec, Vice President Design BMW M and BMW i, says:
The BMW Concept M8 Gran Coupe is designed to stir things up, to polarise – it should move you emotionally. With this car we want to reach people who are looking for something special and who want to stand out from the crowd. Here, BMW M is unmistakably taking luxury out of its comfort zone.
Let's begin with the Concept M8's undeniably polarizing paint choice: Salève Vert, as it's called, appears an electric green in most light or a greyish-blue in others, all depending upon surrounding lighting. The iridescence is achieved across the form with embedded micrometer-sized synthetic flakes, manipulating the reflection and refraction of light to the eyes.
But BMW implores to look beyond the eye-catching color and to take notice of the face of the Concept M8 Gran Coupe's face-forward impression, one widening the contours of the car's body through the execution of its emblematic radiator grille kidneys. Here, embellished in gold, and designed to accentuate the car's low center of gravity, BMW's signature front face is bookended with four-eyed headlamps, lighting technology originating from the seriously fast and quickly serious M8 GTE endurance racer. The hexagonal cat eye glare points inward toward the significant grill, floating above an assemblage of carbon-fibre-reinforced plastic air intakes underneath engineered to deliver the performance associated with the M-Series.
In comparison to its immediate and direct predecessor the BMW Concept 8 Series, the Concept M8 Gran Coupe cues strikingly similar proportions. Accommodating the addition of two extra doors, a gentler downward taper from the roofline and softened creases adorn the sheetmetal. If the Concept 8 Series presented the pronounced musculature of metal tensed in preparation to go, the Concept M8 Gran Coupe relaxes this impression only slightly from the side, while doubling down on the angular and sculptural aggression from the rear.
Accessorized in gold-colored gills, brakes, wheel rim, twin exhaust tailpipes, and window graphic, the bold BMW Concept M8 Gran Coupe will be easy to identify from previous generation M-Series models.Both the BMW 8 Series Gran Coupe and and its M-Series iteration will sit atop of BMW's stable for 2019 and beyond, with more details about its interior and performance yet to come.