The Kansas City and San Francisco-based Willoughby Design has designed a book that lets you explore brand-new typefaces that were created to represent "new classics" for today's typographic design. The interactive book, Fresh Takes on Classic Type on CLASSIC® Papers, features six typefaces, along with the stories behind them, by six different creators that range from emerging to notable.
The firm worked with paper brand Neenah and printed the book on a variety of CLASSIC® Papers that will keep the reader engaged with each page. Besides the typography, the book has graphic design, traditional offset and UV printing, four-color imagery and spot color, foil stamping, spot thick UV, embossing and debossing, and die-cuts.
While the book isn't for sale, you can get a free copy from a Neenah rep.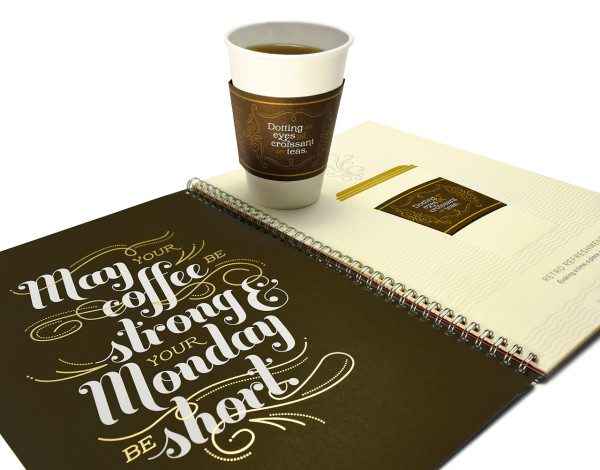 Artist: Jessica Hische (artist and speaker)
Typeface: Buttermilk & Brioche
These two bakery-inspired typefaces, Buttermilk (smooth and wholesome) and Brioche (proper and slightly whimsical), are modeled after 19th century type samples. A sleeve slips out letting you use it with your next cup of coffee.
Artist: Luke Lisi (designer)
Typeface: Homestead
Three single-layer fonts make up this typeface, which can be arranged in different ways to create custom plaid designs. The die-cut panels come out and can be rearranged into new patterns.
Artist: Erik Spiekermann (graphic designer, typographer, and type designer)
Typeface: HWT ARTZ
HWT ARTZ originated as a woodcut typeface that was then digitized in 2014. The proceeds from this font's sales goes to the Hamilton Wood Type & Printing Museum.
Typeface: Various typewriter fonts
Bringing forth a feeling of nostalgia, typewriter fonts are continually used to this day and now with the benefit of going digital, they have all kinds of creative possibilities. Included are five inserts you can read and explore.
Artist: Matthew Carter (type designer)
Typeface: Big Caslon
Released in 1994, Big Caslon is a highly recognizable typeface that revived William Caslon's 18th and 19th century designs. A 17″ x 23″ sheet and hang tag for gift wrapping are included.
Artist: Nicole and Petra Kapitza (designers)
Typeface: Roto
Some of us probably remember dingbats, the characters found on manually typeset pages. This new version of energetic characters lets you play around with them which are featured on two-sided cards.