Sergio Orduña, of SO Studio, designed the CUMBRES DOCE property in downtown Cancun, Mexico that consists of five separate houses. The houses sit on a long strip of land so development was a challenge. Surrounded by a white concrete block wall, the houses are not only protected from prying eyes, they all tie in together with their exteriors being white.
Despite the limited land, they managed to fit the all-important pool in. It is Cancun, after all.
I love the long, narrow opening on the exterior wall along the edge of the pool giving swimmers a peek into the outside world.
The placement of the pool guarantees sunlight throughout the day.
While the lower floors have fairly limited views, the upper floors have sweeping views of the surrounding landscape.
The floor-to-ceiling windows open up to create cross ventilation on the interior. The floors are almost level to the grass, expanding the square footage of the home.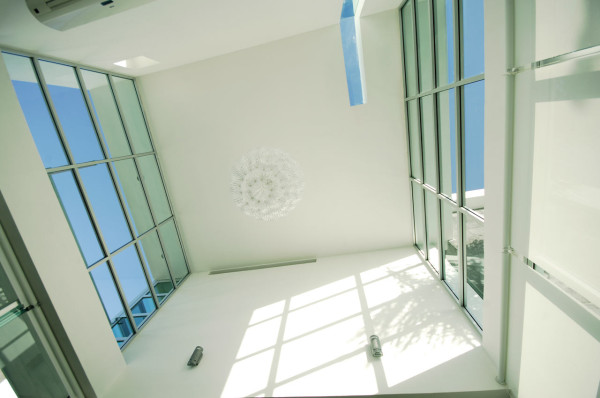 The double-height ceiling in the living room helps flood the interior with daylight. The massive space also makes quite the statement.
Photos by Daniela Rangel.

Design From Around The Web