In the 80s, chances are you found me close to a boombox and, to this day, me and music can't be too far apart. Thanks to Berlin-based designer and illustrator, Axel Pfaender, we can once again say hello to the almighty sound system by way of his Berlin Boombox. Blending his love of music and design, he's bringing back the old school but for today's technology – simply plug in your iPhone, Android mobile, or any other MP3 player with a headphone jack.
This boombox is one you build yourself. It comes as an easy DIY kit that consists of a die-cut cardboard structure and all the electronic parts. It only takes a couple of minutes to put together and the best part is you don't need any tools or glue.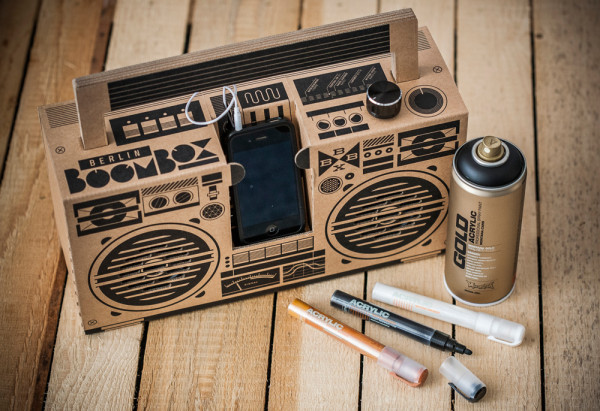 The black and white graphics are screen printed onto heavy corrugated cardboard that comes complete with a strong carrying handle. Three AA batteries power the integrated digital 2×5 watts amplifier and Hi-Fi speakers.
It comes in several colors or blank so that you can customize it yourself.

Design From Around The Web