dasMOD sought homes in Southern California that were in need of some love, but not complete overhauls. They landed on the 80s inspired Via Tiempo house in Encinitas and quickly set out to bring it into modern times. The home had good bones but had some flaws that needed to be worked out, like improving the views, functionality, and opening the floor plan up.
The residence benefits from being located near the ocean in the up-and-coming Cardiff-by-the-Sea neighborhood. Large black rimmed windows and sliding glass doors frame views of the California landscape and sea.
The interior, with the help of Handsome Salt, was given a lush, contemporary makeover that still feels cozy and livable. An eclectic color palette, that includes pops of color and a variety of neutrals, brings a playful element. The kitchen pairs mint lower cabinets with oak wooden uppers, which are topped off with copper details, for a stylish, modern aesthetic.
High ceilings and the new open living plan gives the interior a feeling of airiness. The large space opens up to the backyard blurring the division of indoor/outdoor spaces.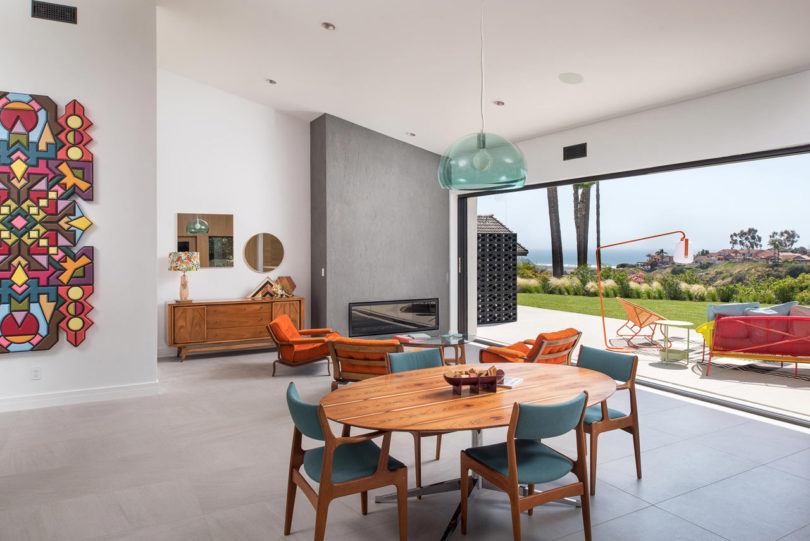 In one of the bathrooms, they used Solar yellow Rex Ray tiles from Modwalls with a dark custom vanity and a marble countertop.
Hygge & West wallpaper designed by Lisa Congdon was used in the guest bedroom.
Photos by Jenny Siegwart, courtesy of BowerBird.