Since we didn't have a Deconstruction article in June, we're giving you two in July! The first was Beplushave's Arquette lamp. This one comes from David Keller created a pair of stools called Axum and Lalibella for his studies at the Bezalel Academy of Art and Design in Jerusalem under professor Yaacov Kauffman. He's sent us pictures of the design and build process for a colorful Deconstruction.
Near the place I live there is an "absorption center for new immigrants." Immigrants spend their first years in this place after coming from all around the world before they are acclimatized in their new country. In the center near my home there lives a few hundreds of immigrants from Ethiopia. They have lived there for almost 25 years. Their "acclimatization" takes time, and it seems to me that they have developed — during those years — a dual, Israeli-Ethiopian culture. Their houses, clothes, Friday markets and social habits are both modern and ancient, third world and Western at the same time. This research was the foundation for my design.
The joyful and colorful stools are upholstered with a rough Ethiopian fabric. The rubber joints are hard and aggressive. The stool is pleasant and comfortable. The project is part of an exhibit at the Paradigma Gallery in Tel Aviv as part of the exhibition Joining Tissue that opened on July 17, 2010.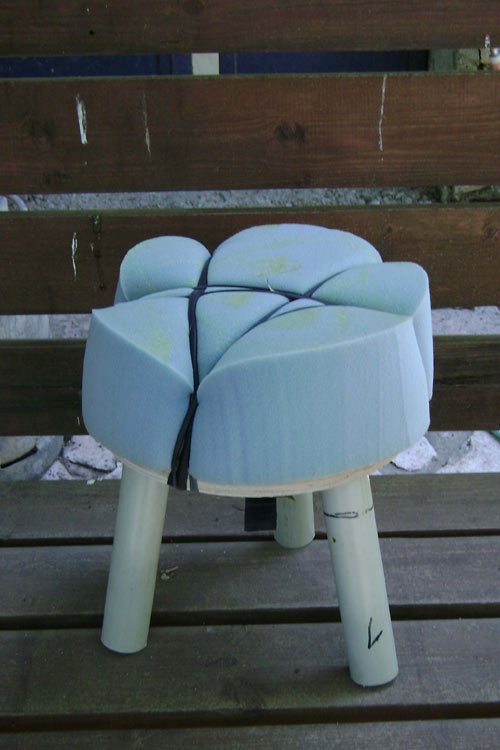 I built a few plywood and foam models to try and find the right proportion for the stool.
I tied the polyurethane foam to the plywood with rubber ribbons to verify that the foam is controllable and the rubber ties give me the desired effect.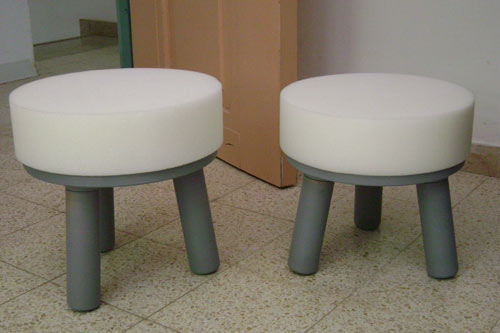 After I machined the wood parts on the CNC, I sealed the wood and painted it with primer.
The legs are painted using the lathe with sponges. The body is powder painted.
Once the stools are assembled, it's time for upholstery:
The final step is to tie the rubber ribbon around the stool to keep the cushion in place.