This month's Deconstruction comes from Dan Civico, artist, designer and maker based in the UK. Here, he shows us all about his ChairKIT_, a limited edition range of high quality self-build chairs and tables that are sold in flat pack/wall art form and are supplied with almost everything needed for construction so you can enjoy the creativity, interaction and fun of building your own furniture. Sounds fun, right?
The design of ChairKIT_ is a happy accident.
During the recent recession I began designing a high quality, handmade chair for the domestic market that retailed under £100. I set about experimenting with a mix of production and handcrafted processes in order to fulfill this criteria.
The result was a range of chairs that combined CNC routed birch plywood with various handcrafted, solid timber inserts including walnut and oak.
The chairs, although they didn't quite make the £100 mark (selling at £120), sold out not long after they were first exhibited and I have since had many re-orders. However, it was a subsequent visit to the CNC manufacturers that interested me more.
The off-cuts from the chair's leg profile, which I'd asked to be discarded, were still in the workshop and they instantly struck me as being very similar in dimension and proportion to that of the seat pan. I went straight back to my studio and within an hour I had designed the first version of ChairKIT_.
The idea is simple; it maximizes materials — sustainably sourced birch plywood, cuts down on processes and provides people with the experience and pleasure of constructing their own chair. I feel this idea will make people more inclined to keep them, giving them longevity and ultimately a nod to the environment.
Cut all the pieces from the frame, sand the edges and join. It couldn't be simpler.
However, this first version relied on the buyer using dowels to join the components which involved drilling very accurate holes. A task I considered a little too challenging for the majority. It was also slightly too narrow in width.
To rectify this I simply changed the dowels for screws, which also allowed me to add color and detail and I re-worked the proportions so the optimum dimensions were achieved. I also added to the range with a table/bench.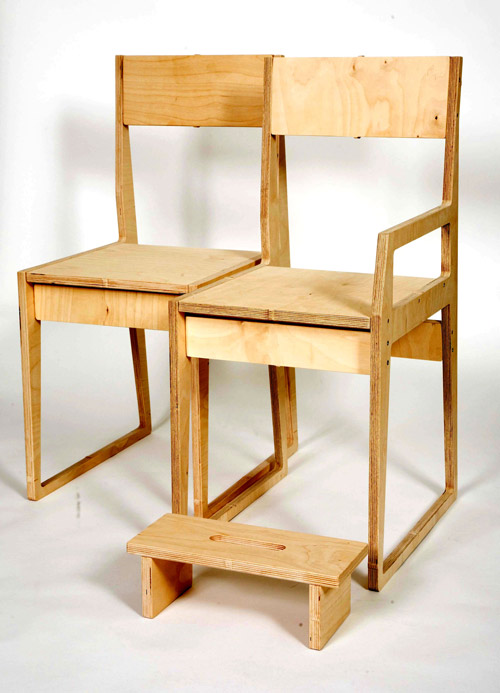 Regardless of the ease of construction, the majority of buyers have not made their chair/table, opting to keep it on the wall as a piece of art, feeling like they'd lose something of the original ethic of the piece if they built it.
So, to both enhance the wall art ethos and add another dimension, I have designed and produced a print — an exploded blueprint of the chair/table complete with instructions on how to build them and ideas on how to customize and personalize them.
This new offer is on a limited edition basis only. Each chair/table is stamped, signed, numbered and dated and each purchase comes with the limited edition, signed and numbered print so you still have the legacy left when you're sitting in your finished chair.
The ChairKIT_ range will be launched as part of the London Design Festival from September 23-26, 2010. Look for the Design Event stand: G100 at 100% Futures.