Greg Wolos of Whitevan has talent, and Furni thought so too. When he entered Furni's Show Us Your Skills competition in 2008 and ended up winning with his Emily clock. Here, he's going to show us the prototyping process of his great little wall clock.
First, the initial sketches are made.
Then, prototyping, my favorite past time. A rough prototype is made from pink foam and bondo to check form and concept.
Then on to making a real prototype. This photo shows milling the clearance holes for the buttons.
Here is the clock face after milling. The final OD cut will be made after the aluminum is bent for a nice fit.
Here, we're bending the aluminum casing. Dennis Beach helped me find some aluminum in the sculpture yard which we then cut to size on the table saw.
Aluminum casing after a little Scotch-Brite action.
Making the base.
Making the jig to route the OD.
Ready to cut the OD profile with the router.
Tapping the hole for the mounting bracket set screw.
Ready for sealing and final assembly.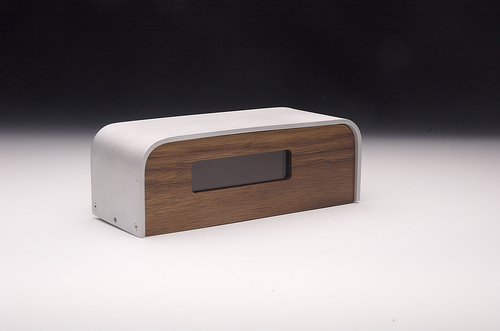 And, finally, ready to show off to Furni!