Italian lighting company Foscarini recently introduced the Maki suspension lamp by Nendo, designed by Canadian-born, Tokyo-based designer Oki Sato. Sato conceived of the design by rolling a circular piece of paper, then rolling another, and fitting one inside the other. He likens the form to a shell, and called it "maki", which means "to roll" in Japanese. The finished product, detailed in this month's Deconstruction, is made of sheet metal. Sato describes the challenges below.
Maki started from a simple gesture: making a roll out of a circular piece of paper, creating a very simple, but interesting form, like a seashell. It's because of this rolling gesture at the origin of the lamp that we called it Maki, which means to roll something in Japanese.
It was important for me to be able to trap the light inside this simple form, in a way that would not compromise the simplicity of the outside form.
I realized I could achieve this by rolling two circular shapes within one another, concealing the light source.
We decided to use metal for material. A simple metal sheet looks very similar to the sheet of paper we initially used in creating the concept. However, rolling a metal sheet in a conical form, called "calendaring," is not easy. You need a very strong grip, and must work your way into it from different angles.
We then went through a complicated technical development process with Foscarini. The binding of the two sheets had to be seamless.
We also thought a lot about how large the hole had to be on the inside to give the perfect amount of light to the outside, without people noticing the mechanism inside.
The lamp creates two different kinds of light: one is a very strong direct light, which is highly functional. The other is light around the edges, which soft and ambient.
We chose two colors for the final product: white and pale grey. These colors made sense, not based on selecting best colors for the lampshade, but with consideration for the light emitted from the edges.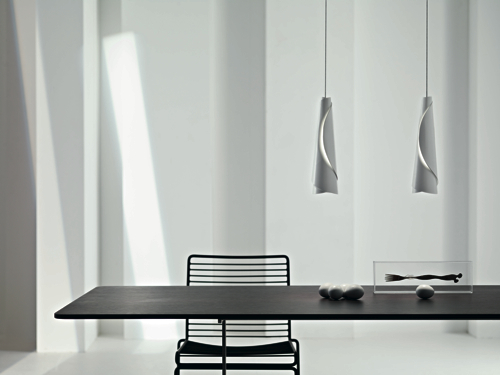 It's not form for the light, but light creating the form. It started from a simple gesture and ended in a simple gesture. This very much represents our philosophy at Nendo.
Watch Oki Sato talk about the process in this video: