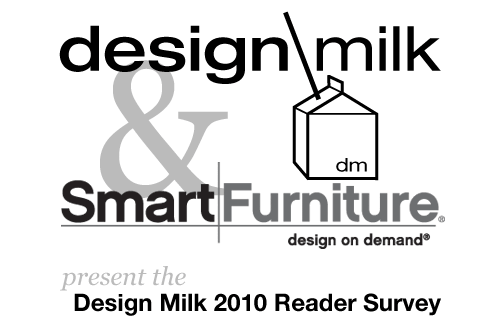 It's about time we found out just who you are and what you like. Our 2010 Reader Survey is all about making Design Milk a better and more relevant resource for you. But who wants to take a long, boring survey? Well, we thought we'd motivate you a little bit by offering an incentive. We partnered with SmartFurniture.com who is generously giving away a $500 gift card to one lucky survey taker.
Take a look at some of the beautiful, authentic modern furnishings you can get at Smart Furniture using your gift card:
Rules: All you have to do to enter is fill out the Design Milk 2010 Reader Survey and put your email address in at the end of the survey. (Note: we will not collect or distribute your email address to anyone, even our partner. It is for entry and choosing the winner only.) International readers are welcome to enter, but please note that some items may not be able to be shipped overseas. One entry per person. The survey will be open from now until midnight on Sunday, October 3, 2010. On Monday, October 4, 2010, we will choose a winner at random.
Sorry, the survey is closed. Congratulations to survey taker #325 Kendra N.!