Third time's a charm, and an absolute classic. Following on the heels of David Stark's innovative pop-up at Haus Interior and the stark white space of Seattle boutique Object, Design Store(y) delves into the downtown outpost of the MoMA Design Store. We visited the SoHo location, camera in hand, following an interview with MoMA Design Store president, Kathy Thornton-Bias.

Interlocking Candleholders, Mikaela Dörfel, 2009
What makes the MoMA Design Store different from other design shops, in terms of its offerings?
Museum curators approve everything we sell in the store. MoMA, which was founded in 1929, was the first art museum to have a Department of Architecture and Design. That commitment was progressive; it's part of our DNA. The department is very involved here. It really raises the bar.
What's one of the challenges?
We have to be ruthless editors. For example, we do a lot of business with Alessi. Our job is not to buy the entire Alessi collection. We might walk out with only two pieces one year, other seasons, it may be 15 pieces. People look to us to do the work for them, to find the most functional, aesthetically pleasing products, using our knowledge base. Plus, being in New York City, we're not afforded a lot of space, so we have to think carefully about what to put into it.

Station Alarm Clock, Arne Jacobsen, 1941

Two Moons Vase, James Mohn, 2011
What are your favorite items in the store right now?
This season we did a bit of a retro approach with a series of newly reissued products. I'm really loving the Station Alarm Clock by Arne Jacobsen; it's so functional and classic. And I love the juxtaposition of positioning it alongside more recently designed items made with newer materials and techniques, like James Mohn's Two Moons Vase. People are interested in both. The Two Moons has a classic vase shape, but in addition to an opening at the top, there's one in the middle. It's so smart and nothing like it existed on the market.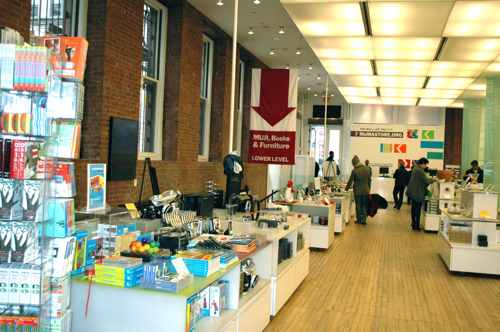 The main level, looking towards the entrance. The worn wood floors and exposed brick wall reflect the Soho aesthetic, and make an interesting contrast with the glossy white display cubes.

Sky Umbrella, Tibor Kalman and Emanuela Frattini Magnusson, 1992
What's been a consistent best seller through the years?
The Sky Umbrella; the beautiful blue sky print under an unassuming black umbrella. People get such smiles on their faces when it opens. It's amazing when I travel (we attend all the design shows) there's always someone on the street carrying the sky umbrella. This is the umbrella's 20-year anniversary. We're planning a little party for it, and will have a display in the store to commemorate it. We have store in Tokyo, in a beautiful building designed by Dutch architect Richard Gluckman, and it's been a best seller there too.

Bubble Necklace, Marina and Susanna Sent, 2001
Are there any recent best sellers that stand out?
The glass Bubble Necklace, made from fused-together glass spheres by sisters Marina and Susanna in Murano. It's beautiful and has been really good seller for us. A lot of the jewelry we sell is unusual; they're statement pieces. I wear pieces when I speak, and I always get comments, compliments.

A MoMA store employee models the Anemone Felt Necklace, Vacide Erda Zimic, 2010

Shibori Scarf, Shinzo Kimura, 2010
What other items from the store do you own personally?
According to my husband I have the whole design store at home! The job is a blessing and a curse. The majority of my jewelry and scarves are from our program. The Japanese textiles are so beautiful and unique, the weave, the colors. I have a million of the Japanese scarves. I have a lot of the furniture too, which mixes so nicely with everything else.
We love our chair designed by my favorite Brazilian architect, Paulo Mendes da Rocha, who won the Pritzker Prize for architecture in 2006. He's the architect's architect; he makes his own models. When I first went to his office, he didn't even have a computer. Several of his models are in the museum's collection. The chair is so comfortable, with leather slung across a metal frame. My husband and my kids love it too.

The shop's large selection of design books are on the lower level.

Terrain Vase, Stephan Jaklitsch, 2011
What new products you're particularly excited about?
Items from our collaboration that has architects design pieces specifically for the MoMA Design Store. We commissioned them to come up with new ideas for products that have a sense of functionality and materiality, pieces that would not be just decorative. Many had not been product designers before so the initiative was interesting to them. We worked with them on shape, material, use. They came up with such creative and innovative ideas. Architects included Stephan Jaklitsch who designed the Terrain Vase, which can be constructed in two different formations. Also John Bennett and Gustavo Bonevardi, who designed the Architect Cubes set and the MoMA Padlock Keychain.
Can you give us a preview on what's coming up?
Yes! We do a project ever year called Destination Design, which focuses on an emerging market. Last year it was Istanbul, this year it's Destination Mexico. It will blow people's minds; it's not stereotypical products you associate with Mexico. It's fresh, directional, with pieces from over 50 designers, including furniture, jewelry, tabletop, lighting. We usually pick countries off the beaten path, because not many people get to go to places Istanbul or Korea. Mexico is our neighbor, and we have a mindset about what they create, but a tremendous amount of contemporary design is happening there. This is our 10th edition, and our biggest in terms of product and number of designers. The program launches in late April, right before summer, typically a slow season in retail. I'm really excited about it.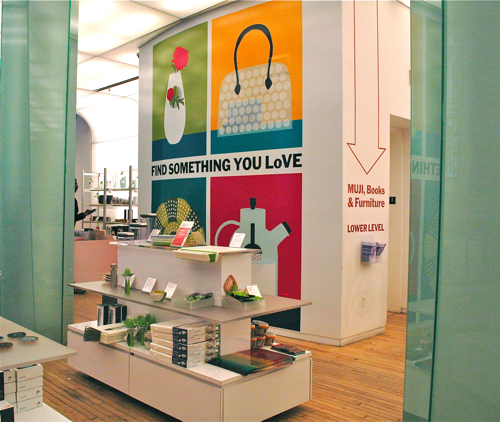 Visit the NYC MoMA Design Store at 11 West 53rd Street, between 5th and 6th Avenues.