Laura Day is a New York City-based interior designer and entrepreneur, world traveler and veteran of TLC's Trading Spaces. Her work has been featured in New York Magazine, Vogue, and Traditional Home. Her newest project is Laura Day Living, an experimental online magazine where Laura documents what she's learned in the hopes to inspire others.
I guess you could call this a "Day" in the Life or maybe a Designer "Day"ly. OK, I'll stop now.
Sometime between 6 AM and 7:00 AM (hopefully not before that). I wake up to the sound of my "alarm clock" AKA my daughter Olivia's monitor. She lets me know when it's time for me to get up and start the day.
7 AM-8:30 AM: Have a cup of tea, cook breakfast for Olivia and myself, and get us both dressed and ready to get out the door.
9:00 AM: I take my daughter to school six blocks away. Today happens to be her first day of school and she picked out her very own outfit.
9:15 AM: Drop off Olivia and race up to SoulCycle for my 45 minute spin class.
10:15 AM: Get out of spin and race home to get dressed to go to work.
11:00-11:30 AM: I feel like I'm always rushing but I don't think I would know how to live any other way. I grab a bite on my way out the door and run. This time it's rushing downtown to SoHo in a cab to do an interview for Laura Day Living with my very favorite artists-Marilyn Minter! I had a female cab driver which is rare in NYC — it was definitely a good omen.
11:30 AM-2:00 PM: Marilyn Minter is one of the coolest people I've ever met-hands down. I got to sit down with her in her studio and talk about everything from shoes to her favorite artists. She even signed a copy of her book for me… I was like a little girl on Christmas morning!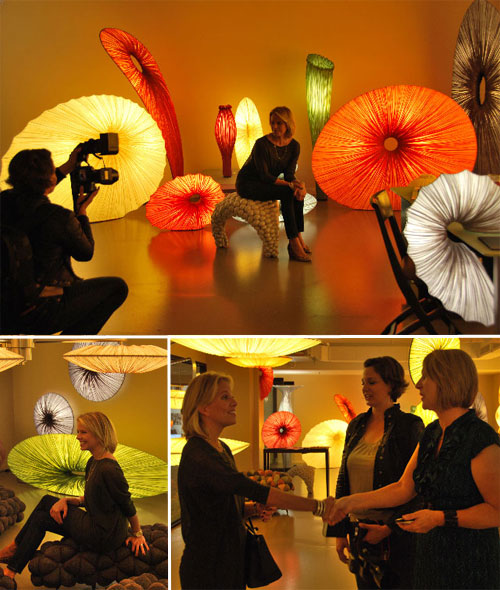 2:30-4:30 PM: One of my favorite on-line magazines Nesting Newbies asked me to come meet with them at the "What's New, What's Next" event at the New York Design Center. They're going to feature me in their upcoming issue and snapped a few shots of me in the Aqua Creations showroom. It was so nice to meet them in person and hear about what they are doing. I even had a chance to look around the building for "What's New, What's Next"!
5:00-7:30 PM: After rushing around all day, I need to spend some quality time with my daughter. It takes me hours to put together the perfect outfit, but Olivia has a gift. She threw this ensemble together herself after she got back from school… I was extremely impressed. A stylist in the making perhaps? We have dinner as a family and then Olivia goes to bed.
7:30-9:30 PM: My husband Frank and I spend a little time catching up and have a glass of wine.
9:30 PM or 10 PM: So maybe the city outside of my window isn't sleeping but after the day I've had, it's early to bed for this tired girl.
Thanks, Laura!