As if summer isn't laid back enough, for this month's Destination Design we decided to amble through the heart of the Sonoma Valley for a virtual stay in wine country at H2 Hotel Healdsburg. Like so much else these days, we discovered it on Pinterest, our eyes drawn to the rustic boho vibe of the hotel's lounge, by interior designer Marie Fisher, who also designed the 36 guest rooms and hotel restaurant/bar. This LEED Gold project, done by architecture firm David Baker + Partners, has a number of practical and aesthetic green (eco) features, including a planted roof, solar panels, reclaimed wood, bamboo flooring, and more. Plus, it was built responsibly, with more than 85% of the construction debris having been recycled. Mostly, we love the way it looks, and wish we could hang out there, sipping wine, of course.
Above: Hotel lounge.
Western view of the hotel. Every room has a private patio or balcony overlooking lush courtyards, Foss Creek, or Healdsburg's Fitch Mountain.
Eco chic decor includes striped bamboo flooring.
The bathrooms sport glass walk-in showers lined with Heath ceramic tiles, signature all-natural bath products and organic towels.
Studio rooms have a Japanese inspired plunge tub.
Standard guest room.
King beds covered in organic Coyuchi cotton linens conveniently convert to two twins.
Spoonbar opens right onto the street. Mixologist Scott Beattie sources local liquors and organic fruits and herbs for the cocktails. An extensive "keg program" with wines on tap reduces packaging and spoilage.
Freeform tables made from reclaimed acacia surround a long, communal table crafted from a split tree. The chefs source from local farms, ranches, and artisan producers.
Sonoma County artist Ned Khan's Spoonfall water wall uses rainwater captured from the hotel's green roof. (we found a closeup here)
The Green Room for meetings features a reclaimed gym floor. Cantina doors open on to green space.
Bicycles are complimentary for all guests.  Hotel manager Kyle Evans moonlights as a certified bike mechanic.
The hotel's living roof, which is planted with succulents, filters rainwater to reduce the impact on the town's storm drain system and Foss Creek. There are solar panels on the roof above, used to heat the swimming pol and hot waster in the guest rooms.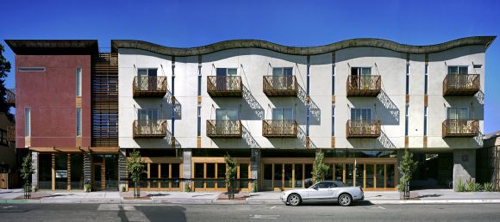 Are you packed yet?
What: H2 Hotel Healdsburg
Where:  219 Healdsburg Ave., Healdsburg, CA, 95448.
How much: Standard guest room rate starts at $265 mid-week through October; $205 November though February.
Highlights: A living "green" roof, Japanese plunge tubs, and free bikes for everyone.
Design draw: Definite eco-chic vibe, with plenty of white, plus earthy touches for warmth, including Heath Ceramics tiles in the bathrooms. The green stripey reclaimed gym floor is a fun touch for the conference room.
Book it: Call 707-431-2202 or book it online.
Photos 1, 3, 4, 5, 6, 10, 11, 12 by  Zubin Shroff; photos 7 & 8 by David Duncan Livingston; photo 9 courtesy of David Baker + Partners Architects; photos 2 & 13 courtesy of H2 Hotel; photos 14 & 15 by Brian Rose.
Go virtually on vacation with more design destinations right here.

Design From Around The Web