Luxury hotel chain Mandarin Oriental opened the doors of a new hotel in Barcelona, Spain in 2010 with interiors by Patricia Urquiola and architecture by Carlos Ferrater and Juan Trias de Bes. Yes, I know — another hotel with interiors by Urquiola, but what can I say? I think she does good work. Now, if every hotel starts using her to design their interiors we might run into a problem, but for now Urquiola's interior design is still much of a novelty.
Located on the stylish street Passeig de Gràcia, just minutes from landmarks like Las Ramblas and Antoni Gaudí's Casa Batlló, the hotel fits right in with Barcelona's rich history of architecture and avant-garde design. Featuring custom designs and Urquiola's Axor collection throughout, the hotel was named the best hotel project of 2010 by Interior Design magazine.
I don't often think of work by Uquiola as minimalist, but the furnishings, decor and rooms are sparsely elegant, contrasting to what you might see of Urquiola's other hotel interiors. I especially enjoy the outdoorsy, tropical feeling of the lounge and restaurant, dotted with plants and situated underneath a lattice canopy (pictured above).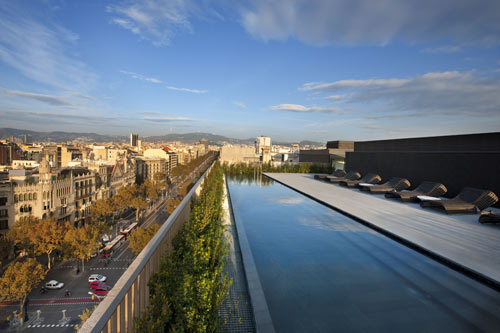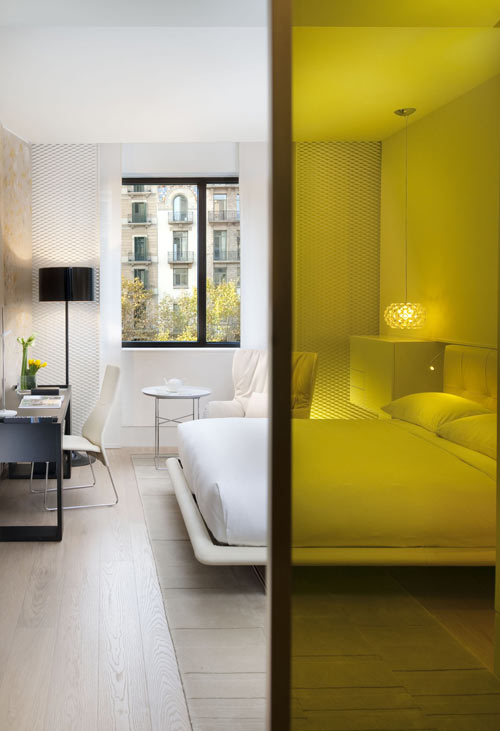 Photos courtesy of the Mandarin Oriental.
Are you packed yet?
What: Mandarin Oriental Hotel
Where: Passeig de Gràcia, 38-40, 08007 Barcelona, Spain (map it)
How much: Starting at ~$400 per night
Highlights: The hotel has 88 rooms and 10 suites, full-service spa (with its own pool), rooftop terrace, lush gardens in the city. The hotel has 5 bars and restaurants to choose from specializing in Catalan cuisine, one of which is right next to the lengthy pool.
Design draw: Hotel interiors designed by Patricia Urquiola featuring her Axor collection, along with architects Carlos Ferrater and Juan Trias de Bes
Book it: mandarinoriental.com/barcelona/
Go virtually on vacation with more design destinations right here.

Design From Around The Web